Our dive master, Cann, tells us that our second dive today is a drift dive. We are going to enter the water at the mooring ball where we are situated from the first dive and drift north to the next mooring ball and have the Catamaran pick us up. Okay! Sounds easy.
As we are getting our wetsuits on and gearing up, the crew untethers us from the mooring ball and and we move in the current north. Cann and I giant stride into the water off the back of the Catamaran and immediately are taken away from the boat. Kahn says it is the wind working on the boat and not the current forcing a separation between us and the others. The Catamaran powers around and closer and Murray, D and then C enter the water. As soon as C is in, we descend and swim into a current to get to the wall.
We are surprised by another group of divers on that exact spot on the wall. This is the first encounter of other divers we have had since starting to dive here. They look at us kinda stunned as we just came out of nowhere.
As we kick north, it becomes apparent that the current is not making this a pleasant, no kicking necessary, dive but a bit of a workout. Not too strenuous, but a constant one. Surprise!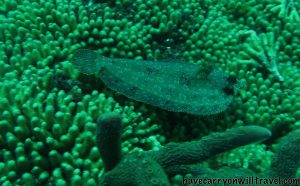 And then Cann disappears on us not once, not twice, but three times. He goes looking for creatures and swims into the blue, or off to the right. We just keep our current speed and course and he pops into view again. This is frustrating for me as he is supposed to be guiding us and is off doing his own thing.
All of a sudden, Cann has us ascend up a short gully and we head back the way we came, with the current this time. Guess we over shot the mooring ball. Oops! An easier kick this time and we arrive at the concrete jack at the end of the mooring line with some time to explore the shallows. We hover and snoop around for 15 minutes and then ascend for our safety stop and exit the water. Oh, Cann leaves us down there by ourselves, which is okay by us as we then dictate when we come up!
Not the best executed dive this week, but we were under water.