Today we get a surprise when we go down to the dock to board the dive boat. This is the boat we are using for today, for the four of us! There are four crew so the crew to client ratio is 1:1.
The diving is great again. The reef in the marine park is in excellent condition. The fish are plentiful and varied. We even find a lobster we haven't met before.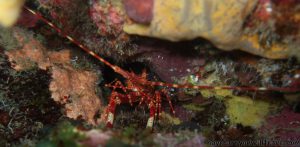 After diving, we drive south to Soufriere and then to Scott's Head, where there is a narrow spit of land that borders both the Atlantic Ocean and the Caribbean Sea.
We also journey to the Soufriere Sulfur Springs and hike into the forest to see the springs and have a quick soak. We end the day with a dip in the ocean and pizza for supper. A day of crustaceans and coasts!