We swim with the resident groupers today.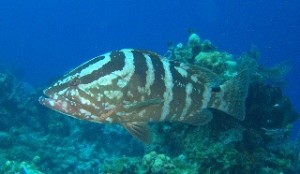 Two are named Tom and Jerry, with Jerry being the more friendly. Our dive master tells us they like to be petted. I timidly stroke one, not sure if it is Tom or Jerry, and he is smooth. He swims with me for a long way, just like a dive buddy.

As we swim back close to the sand bottom, we stop at a monument commemorating Columbus' landing on the island. Our friendly groupers, follow us there and also investigate it.
It was a great day with our friends the groupers!