We are diving this week off Virgin Gorda with Dive BVI. They are a valet dive service, which means they do everything for us divers, excluding putting on our fins and BCD. They assist us into the water and help us get out again. B, our primary dive master, is attentive to all the divers and excellent at finding critters in the water and chatty while on the boat.
The boats are comfortable, and easy to move around on. One is faster than the other, but both are well run.
The visibility hasn't been really great this week. The winds were howling earlier in the week and this has caused the waters to cloud up. The winds have died down today, so hopefully the visibility will improve.
We have noticed a lack of other dive groups out there. We have not seen one other dive group on any of the six days we have dove. We came across some snorkelers one day, but they were not too much of a concern for us. We have had the reefs to ourselves.
The quantity of fish is surprisingly small here. There are not the large schools of fish like we saw in the Maldives. We are working harder to spy critters to photo. We have taken to looking for small stuff – arrow crabs, cleaning shrimp, blennies and gobis.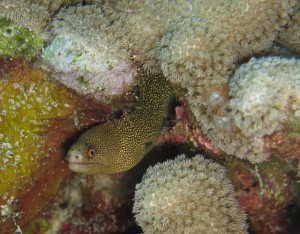 Diving in the waters off Virgin Gorda with Dive BVI has been a good choice and we are enjoying our time on and under the water.