Another last day blog. It doesn't matter how many time I travel, the last day is always a sad one. It seems as if we have been here always, the routine is easy, get up eat, dive, dive, back to base, shower and eat, do the blog, rest, eat, chat and sleep. How can this be bad??? Some might not like the simplicity but I can live with it. Tomorrow is a hike day, we will replace 'hike' for 'dive' on the routine, and see what that brings.
Regardless if the hike turns out, it is sad to finish diving. Our last two dives are just what we require. The first dive is one of the signiture dives on Saba, Diamond Rock. It is a deeper dive. Most of it is 85 ft. There are two coral pillars quite large in diameter with a ton of wildlife. Dive two is a repeat for Debbie and I, Tent Wall. I really like this dive too. The wall is interesting at any depth and off the end of the boat mooring there are several coral heads that house an abunance of things to look at. A prefect way to finish diving.
The climate here is such that we need tomorrow to dry our gear, so even though normally we would dive to the last day, because wet gear weighs a ton and we are slightly overweight as it is.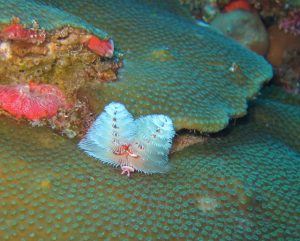 I really like the diving here. I learned to find a couple of new fish. Slender Filefish, he hides in very wavy golden colored coral. If you see him don't take your eyes off him, just stare and wave at your buddy, if you blink he will disappear into the coral and you will not see it again. The other thing I find often is Fireworms. Have found them before but they are in abundence here. There is no too much unusual here but the diving is really consistant. On every dive site the reef is in good shape, there is lots of fishies, and tons of color. Two of the dives we had horrendous current but the others were peaceful, easy adventures.
We will be back underwater soon and we know the dates, so it is not overly depressing but as I said above, it is still sad to say good bye to our sea friends.