Interesting place this Saba. There is basically one road. From the north-east end of the island up to the top and down to the south-west side of the island.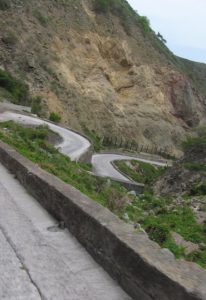 There are a few branches of the main trunk but roads there are few and the roads are all very steep. The flattest is about 300 M across the saddle between two peaks in the village of Windwardside. The views from most places is stunning when you are not surrounded by clouds and moisture.
The days around here are quite calm. There is the occasional cooing of a dove or two and maybe a dog barking but both are rare. There are not too many cars but because there is only one road there is minor conjestion but that only means you may see three cars go by in a bunch. After darkness falls though is a different story. The sun goes behind the mountain and the tree frogs start to crock and creak and whistle. The noise constant and really quite loud. The symphony will continue all night. I suppose if you let it bother you it will but if you just let the random sounds become background, the white noise of it all is very soothing. This calm will soon be broken at dawn when the roosters start to tell you it is time to get up. Cock-a-doole-do is not a gentle way to be awoken but hell it's daylight so you might a well get out of bed especially since the rooster will eventurally win the battle.
The folks here are all very friendly. Almost simple in that respect. They have absolutely no barriers that might inhibit a stop in the middle of the street conversation. We know absolutely no one yet anyone yet everyone we meet wants to know how are day is going, where we are from, how the diving is and what we think of the island.
Today is delivery day. There is a big ship moored at the dock and there is major hub bub off loading semi loads of goods and distributing them all over the island. Everyone waits in anticipation to see if what they have ordered from the mainland has arrive. It might be a new TV, a computer, something as utilitarian as a fridge, or it might be new car. If it is not on this boat, oh well, after all we are on island time. Maybe it will show up on next weeks boat.
Today after diving we are doing the shopping tour.  Beside the two grocery stores, a couple of dive shops, a hardware store, there are 5 tourist type shops. They sell Saba t shirt, shorts, souveniers of all kinds, a small bit of fancy clothing, and some high end jewellery. Even though one of the stores is up a steep (22+%) side street it takes of all of 1 hour to complete our entire tour.
Yards are not the quite the same as they are in our home town. They are more 'natural'. The 'grass' is a cover of green plant material not the ubquitous carpet of fine bladed green material as it would be in the northern climes. On our way up to the jewellery store we walked by a fellow cutting his lawn, Saba style.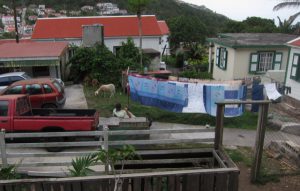 If you want to 'get away from it all' Saba is a place to do it. There is not much to do here, you can dive and you can hike but for the most part you 'chill'. There are not hoards of tourist types and the whole place is laid back. You can come to Saba rest up and go home without any of the built up tension you arrived with.