Murray is kind to my legs today and we take the train north from Ribe to Varde. The train trip knocks about 30 km off what would have been a 73 km day. Knowing we have to ride for 5 days to get to Silkeborg, our next stopping point, I did not want to use up my legs.
We arrive in Varde at 10 am, and promptly loose our map on my iPhone. We end up having a short tour of Varde looking for a Tourist Information and then for a library. We get a so-so paper map from the first place and restore the map on the phone, with free WIFI, at the second. The center of Varde is laid out very similarly to Ribe with the huge cathedral in the central square and small shops and buildings all around. And the roads are cobblestone! And we are off north again.
It doesn't seem to be a good day for navigating as we miss a number of turns and have to stop often to look at the maps. We missed a turn and end up riding down a lovely road with hardly any traffic, so that is a bonus.
I notice as we ride that there are many many oak trees here. At home, we do not see many, but here they seem grow in the wild. We also have entered an area where we are seeing more pine trees. And forest. There are wild roses beside the road, just like in Alberta. And sand dunes not so much like Alberta.
Murray has mapped us through a park and we ride a mountain bike path (gravelly old road) in the Blabjerg Klitplantage (someone's forest!) for part of our journey. Up till now the people on bikes have been dressed in street clothes, today we see bikes riders on the trail dressed in kit. Here in tourist land they ride for fun not for utilitarian reasons.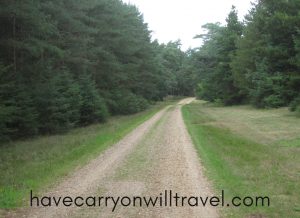 Murray has been hurting all day today so it is fortunate that our ride is only 43 km. Tonight we are staying in a DanHostel, tiny rooms, cook your own food, bring your own bed linens and towels. I am loafing as Murray snoozes.
We had only two choices of accommodation in Nymindegab and we chose the DanHostel knowing it was 3 km out of the town, but we will be okay for supper as they have a Cafe, which serves burgers and such. When we arrive we are informed that the Cafe closed August 1 at the end of the summer busy season. No worries there is a restaurant 1 km down the road. For some reason I check online what the opening hours are and find out that it is only open Friday, Saturday and Sunday now. Strike two. The only other restaurant the fellow at the DanHostel knows is in town is a very expensive one in an expensive hotel. But there is a grocery store. Since we left our fancy attire at home, we pass on the restaurant and ride the 3 km into town, buy a frozen pizza, 2 Cokes and a chocolate bar for supper. We have been making a joke about the food here. We both read that Denmark excels in the gastronomic delights. Well, that is not happening, and we are doing "Denmark by Pizza"!
There does not seem to be to many restaurants in rural Denmark at all. The ones that are here close early. We stroll the central area of the town finding maybe 5 restaurants in the entire place and the only ones open are the Chinese place, similar to the ones in every town in the world, and the pizza joint. Thus the our standard meal.
As we did not do a big distance on the bike today we took it a bit slower and stopped a couple times to smell the roses. The next 3 days we are doing shorter distances but there are towns to explore at the end of each ride. Hopefully we arrive early and get a good overview of what each place has to offer.