I sleep fitfully and every time I wake up I hear the wind howling and the rain thrumming on the roof. When we emerge from our down cocoons, the wind is still blowing and although the rain has stopped, we know it is just teasing us. We dawdle, eat breakfast, finish packing our panniers and decide to get on the road out of Tonder. It's 8:30.
We ride towards MogelTonder, a cute little town with a huge church and charming main street. Half way there it pours on us. The streets in town are deserted except for a gentleman walking his dog asking me How are you?. I just laugh as I am soaked and dripping. We have a quick look at the church which dates back to the 1200s and ride out of town on the treacherous wet cobblestones.
We continue on our ride and as we turn north, we feel the wind at our backs and we are flying. Wet, but flying. We can see the coastal dyke out to the west in the mist. The dyke protects the farm land and marsh from the storm tides, which have flooded the area numerous times over the past few hundred years.
We ride some gravel, pavement and then, to our surprise, while trying to ride on an inside dyke, we ride on 8′ wide by 4′ long by 1″ thick metal plates laid cards like along the path. Bumpity Bumpity up and then Bumpity Bumpity down. We got off those as soon as we could as there were sharp edges and Murray didn't like being on them, our tires we in jeopardy.
We were quite the side show when we stopped at a Perlen Grill for lunch. Dripping wet and hungry, hamburgers and fries do the trick. Just as we are set to go, it rains in sheets, so we run back into the Grill to wait it out.
We make Ribe by 2:00 and arrive at our B&B looking like drowned rats. The lady of the house wasn't surprised by how wet we were. After a shower and hanging everything to dry, we head out to wander Ribe, Denmark's oldest town. Some of the streets date back to the 9th century and the crooked houses to the 16th century.
The Domkirke (cathedral) is in the central plaza and is imposing. It would have dominated the country side  when it was built. Inside there is a column with a permanent mark dated 1634 where the water level came up in a bad storm tide. The mark was about at the top of my head.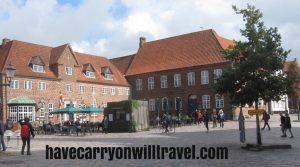 We wander the narrow streets,shooting pictures and marveling at the quaint buildings. Finally my legs tell me to go rest and we are now back in our tiny rooms.