Last night we sat and debated whether we should follow the highway with no bike lane or if we should follow the overland path. Even though the path through the hinterland is longer, we choose it. We definitely chose the right path. It winds back and forth, up and down through the cottage country of Denmark. The entire route is on the land side of the massive dunes created by the stormy North Sea.
Like yesterday these shorter routes are allowing us to stop and see the sites. Today at two different locations we stop, prop our bikes beside a fence in parking area, scale the sand dune and head out onto the beach. I have to a least dabble in the North Sea. It is very cold, maybe not as cold as I imagined but cold none the less. I don't see anyone in the water. just a dog frolicking in the shallows.
The route today was 99% gravel. Not just one type of gravel. The best riding is on a very fine gravel, almost sand like and compacted to near the same density as asphalt. There are the compact gravel roads, areas where the cars are allowed to travel, this is not too bad. It gets worse where they have added gravel as a maintenance measure. This is both on the roads and on the bike paths, we skitter and slide in these areas. The worst is the sand, with weighted, skinny tire bikes we bog down and skitter and tip and waver all over the place, and let out a squeak or two. Once we had to dismount and push our bikes through the sand trap.
All this different terrain and riding with a loaded bike has really improved Debbie's bike handling skills. We travel along these gravelish paths and I am just hanging on as Debbie plows a path. When we ride the cobbles in town she gaps me big. She says it is fear, I say it is skill.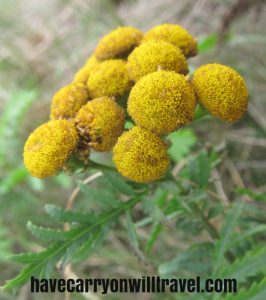 A few observations. Danish grocery stores are very odd. They do have enough in them to construct a meal or two but they don't have much variety. It is hard to put my finger on exactly what the difference between Canadian grocery stores and the Danish ones is but it just seems here they are lacking many of the items available at home. they have a feel like a Costco – buy some product on sale and in bulk and try to sell it to the populace.
Danish people seem very much like Canadians. All around the world Canadians are known as friendly. I would say the Danes fall very much into that category. When Debbie and I are standing somewhere looking puzzled it is likely someone will stop by and offer help. They are also polite and they follow the rules. If there is a sign stating 'Don't go here', it is likely no one will be on the wrong side of the sign, they wait for the walk lights, the drivers yield to bikes and they observe no smoking areas. A very pleasant country so far.
Today could be our best ride to date. After the first 4 or 5 days which were quite similar the last few have be very different. See what tomorrow brings as we ride further east.