I cannot stop looking at the snow covered peaks that surround Mistaya Lodge. This is what nature and beauty are all about. Today it is cloudy, but the view is just as spectacular as a sunny day.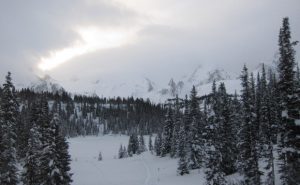 It is quiet here. Away from the city, phones, sirens, just silence. when we are skiing, I hear my breath, the tromp of skis on snow and, yesterday, a far off avalanche rumbling.
There are signs of wildlife in the snow. Small tracks leading here and there. We spy an odd track and D tells us they are ptarmigans eating the bark on shrubs.
Today, I am taking a rest day. The rest of the group goes up towards Heather Ridge, where Murray and I were yesterday. Once near the top they will hang a left and go to Mista Vista. Murray is nursing a sore wrist so hopefully he will be able to stay out all day. For me, it is a day of reading, maybe watching a movie and a nap. Definately a nap.