A 15 minute helicopter ride brings us to Mistaya Lodge and a winter paradise. White fluffiness everywhere.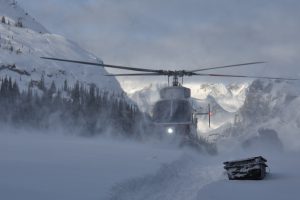 We do an avalanche update in a meadow and then climb Mohawk Ridge. Most of the group skies down one ravine, Murray and I (the newbie) ski down another shallower ravine. A good afternoon with only one wipeout.
Today the main group climbs to Ophidian Glacier. We leave them at the top of the Whaleback and do one run in so so snow before Murray's skins stopping sticking to his skis. we pull the plug and head back to the lodge to warm up and get his skins working.
We eat lunch, warm up and rest at the lodge and then climb up Heather Ridge with a plan to ski down Leprachaun Creek. The powder was perfect and we make it down with a slight detour due to a wrong turn. The sun is very warm on to of the ridge but down in the valeey, it is chilly as we ski back to the lodge for soup, a sauna and another delicious supper.