A few months ago, we have one of those "What the hell!" moments and we book ourselves into a back country ski trip at Mistaya for the first week of January. Silly us!
As soon as we return from Bonaire and get our heads back into winter, we start skiing at Snow Valley, the local ski hill where Murray worked. I say worked as he has officially fully retired, just like me, and is no longer teaching there. Mur helps me with my technique as I only skied once last winter due to my surgery. We practice going up and doooown, using poles, edging and things are starting to come together. But the short river valley runs can only do so much, so off to the mountains we go!
Yesterday, we arrive in Jasper and stop in at four hotels asking for the price of a room for two nights. Every single hotel quotes us a price that is lower than their website price. Travelling to Jasper midweek, before Christmas is an ideal time, no crowds and lots of available rooms.
We are on the ski hill at Marmot Basin by shortly after 9:00 am. It feels like we have the whole hill to ourselves. We ski some green runs to get my body moving and my technique down.
We then take the chair right to the top of the mountain. What a view! Bluest of skies, snow dappled mountains. This is why we get outside!
The runs down from the top are a little more challenging for me. Side slopes, narrower lanes, steep pitches. Some spots are good and some are not so good as my nerves get the best of me and when that happens, technique goes out the window! Mur says I am doing great and only need to always remember to go up and down with every turn, then the hardest slope or turn will work out.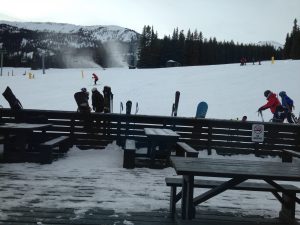 We have a great day skiing, with Murray taking a few extra runs while I rest my weary muscles in the chalet. We will return to ski more tomorrow.