We have a lazy morning. M&D are worn out. They need down time, so we hang out, watching and listening to Southport wake up. This weekend is the Gold Coast Marathon. Today is the 10 km, 5.7 km and two kid races. The loudspeaker wakes up at about 6:30 and we listen from our cocoon on the 18th floor. Tomorrow are the half and full marathon, and two wheelchair events, which we will go out to watch and cheer the runners on.
After lunch we four pile in the car and drive to Kirra Beach. It is about 40 minutes south of Southport, past Main Beach, Surfer's Paradise, Broadbeach and Burleigh. Although the thermometer says 20 C, the wind is chilly. The lifeguard notice board says the water temperature is 19 C.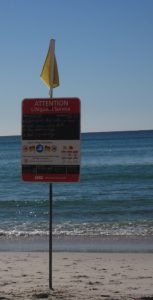 Murray and M brave the water and go for a swim, catching some of the 1 foot rollers that are coming in. D and I sit on the beach, reading and trying to hide from the wind. The water does look inviting and I want to go in, but I know how cold it is going to be, especially when I get out. I was going to bring a wetsuit hoodie to wear in the water, but I forgot it at the condo. RATS!
Murray and M come out of the water to warm up. We watch a couple of surfer girls on long boards, kids playing at the water's edge and families walking the beach. Only the hardier locals, and northern climate tourists, brave the water at this time of year.
Murray starts to go into the water for a second quick dip. I cannot resist the call of the ocean, and dive in after him. The cold water washes over me and my arms feel like they are in ice. I swim hard out from shore trying to warm up. The waves are breaking too far out for me to go body surfing, so I swim and frolic in the water and then make my way back to shore. Murray is right behind me. We quickly dry off, pack up and go to the bathrooms to doff our wet swim suits. Even after putting dry clothes on and a sweater, I am chilly. A hot shower will solve that.
We relax and swim and see more of the Gold Coast today. A good day.