The Gold Coast Marathon starts at 7:20 this morning. Murray and I calculate when they will run past the 30 km mark near M&D's condo building. We walk out to the bridge at about 8:30. We can see the runners getting closer and closer by the helicopter hovering in the air above the lead group.
The lead group is small, they are following a pace runner. Mostly Japanese and Africans. The Africans legs would measure up to my shoulders they are so tall and lean and they are so graceful in their movements, and appear to run effortlessly.
We walk down closer to the finish line as we have time before the lead group gets there. We line up along the fence right at the corner where the runners go off the main road towards the finish line. We wait patiently and then we see the lights on the lead police vehicle. Two runners have broken away from the pack, Mungara from Kenya and Kawauchi from Japan.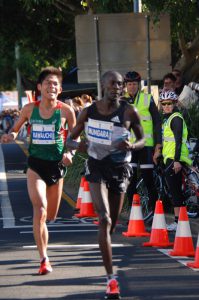 As they round the corner, Mungara shows no expression on his face while the Japanese fellow looks to be in pain. They sprint to the finish, which is amazing since they just ran 42 kms. Mungara wins by one second at 2:09!
Now many of the faster age groupers are passing by, on the opposite side of the road, heading to the turn around before coming back to the finish line. An amazing 6,200 runners registered for the marathon. These ones are the speedsters, almost as fast as the elite athetes.
One of the marathon wheelchair athletes spins by. She looks like she has been working hard. I clap for her and her effort.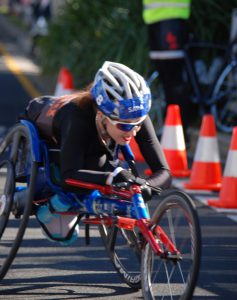 Shortly after, the first woman races by. A Japanese going hard for the finish line to finish in 2:26.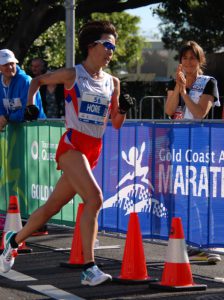 We watch for a little while longer, cheering for more and more runners coming to the home stretch. It is great to watch and cheer on these athletes, no matter what their time or ability is. Everyone of them is an inspiration.