Morning destination, The Spit. This spit extends north from Main Beach/Surfer's Paradise. The land has been claimed for what was in the 1970's a narrow penninsula of sand. It is now built on, although not extensively and is somwhat manicured to keep a channel for boat access to the interior water ways. There is a lot of action at the end near the boat channel. A nice beach draws the swimmers and surfers, a causeway draws the walkers and fishers and a park draws the folks out for a day of relaxation.
On the return trip we pull the car into the fishermen's co-op and buy fresh prawns right from the boat. Dinner tonite has now been confirmed.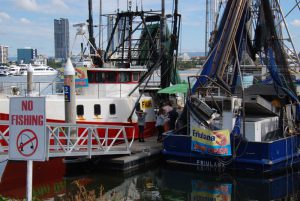 This afternoon Debbie and I tram it to the iconic Surfer's Paradise. If you have heard anything about the beach life in Australia you have heard of Surfer's Paradise. The beach is amazing. 50M wide and kilometers long. The waves just keep rolling in and the people  swim even in the middle of winter.
It is not far from M & D's place and we need a little exercise so we decide to walk back. This takes us off the beach and along the main drag. This is where the action is. Funny though, it is not overly crowded, more like the downtown of a city. Lots of shops and hubbub but not elbow to elbow as Noosa is. Pretty touristy with shops such as the 'Condom Kingdom' front and center. The walk is along the 'highway' so not idillic but interesting enough.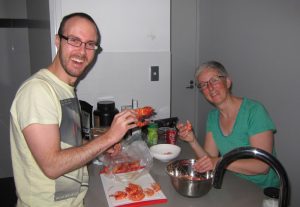 After a bit of rest M and Debbie tackle cleaning the prawns. Heads, tails, shells and legs and then entrails. They cook up Chorizo and Prawn Pasta with a large green salad. We enjoy this delicious supper after another day touring.