August 17, 2012
I am not sure what it is about sleeping outdoors, but we rolled out of the tent at almost 9 am this morning.  It's cool in the shade so I have my usual 5 layers on. As we munch down breaky, we decide to go for a hike instead of a ride this morning.
Reesor Lake is literally at the end of the pavement located in the east end for Cypress Hills Interprovincial Park. It is a really pretty setting. There is no beach but if the number of fishers is any indication it must be good for fishing and looks as though you could paddle a canoe or kayak, although power boats are not an option. The campground is small with only about 40 sites. There are a few  ''walk-in" sites, one of which we stayed in. It is a super place, but there is not much to do but loaf.
Part of the TransCanada Trail system runs through Cypress Hills. There is about 15 – 20 km of trail through the park.  We hike a few km out from Reesor Lake towards Elkwater Lake. It is a climb right from the start, but not too hard and we set a steady pace. There are cow tracks in the dried mud and we ponder whether the cows were going up or down. After passing through a "cow gate" we arrive at the top of the hill, the meadow is flat across the top.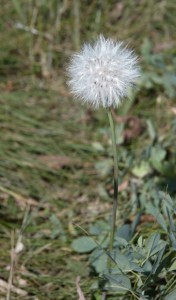 We walk for a bit and catch glimpses of the surrounding landscape which reaches to infinity as the horizon melds with the sky.
The trail is 2 tracks wide and carries on through the meadow for as far as the eye can see.  Deciding we do not need to go further we head back. This trail system would make a great 2 day backpacking trip with fairly easy terrain to cross and a camp spot at about ½ way.
Next stop, Medicine Hat.  It's here we find a lunch spot, WIFI and a place to swim.  We stop at the tourist information and procure a map with which we locate a park for a picnic lunch.  We take a spin through downtown to see the old center and the early 20th century buildings. We are on the lookout for a coffee shop that might have WIFI. The downtown is a little sparse on such amenities so we head north to the Medicine Hat Family Leisure Centre with a swim being on the agenda. The facility is basic but is pleasant enough and luckily they have free WIFI, a pool and a shower.  Murray sits in the foyer and posts to the blog and I go for a short swim and a much needed shower.
With a clean me we head west to Lethbridge to visit G. and our daughter M. Highway 3 is only two lanes but there is a little more interest than the Trans Canada. M's directions through Lethbridge are perfect and we arrive at their new house without any detours. A big hug is waiting for mother and daughter!