Yesterday, M&G toured us around Lethbridge's important sights.
We started out at the Farmer's Market where we bought goat cheese and raspberries. Geoff was saying that it was crowded, but the crowd was a drop in a bucket compared to the Strathcona Farmer's Market crowd in Edmonton.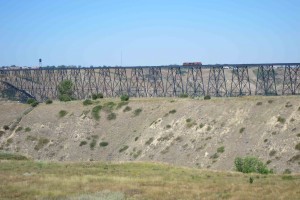 We stopped for a view of the railway bridge across the coulee. It is the longest steel trestle railway bridge in Canada and was built in the early 1900's. It is very impressive, both at a distance and close up.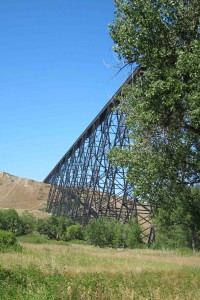 We walked down to the Oldman River in the park below the bridge.  Lethbridge is very fortunate to have such an extensive park system running through the coulee along the river. There are trails for walking, running and biking.
We got a few views of the University of Lethbridge. Architecturally, it is stunning as it is nested between two hills. The building was designed by Arthur Erikson, a very famous architect.
We headed back to M&G's house for lunch and to hide from the heat.  Chatted the afternoon away. To celebrate all our birthdays we went for supper at O-Sho Japanese Restaurant and had our fill of sushi.
Lethbridge is a small city but has all the amenities one needs. G says his commute time is 8 minutes. That is from the burbs to the heart of downtown. A trip that big city dwellers could only dream of. We did miss a couple of sites, the Japanese Gardens for one, and Whoop-up Days for another. We'll pick them up on our next visit. I noticed a couple of nice campgrounds while we were sight seeing, the city would be a good stop on a tour of southern Alberta, so if you are in the neighbourhood be sure to stop in.