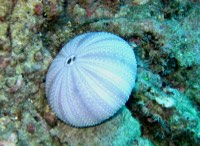 Yesterday we did not dive. We basically did chores and hit a few beaches. We got a general look at the surroundings. The water is great, the sun warm, people are friendly, the traffic awful, and the parking absurd.
Today we went diving! We notice right away that there is no hurry on the dive boat. It is relaxed and whenever we get in the water we get in. We also get to dive as long as we have air. So, we are diving an hour right off the start line.
Our dive group today is called the "Canucks" because there are 4 Canadians in it. Two from Quebec and Mur and me. Our dive master is from France originally. We dive well as a group, but the two Québécois are leaving tomorrow so today was their last day.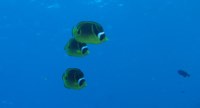 There are numerous fish that are endemic to Hawaii. We keep a watchful eye out for them and do see many. We delight in a small pod of dolphins when they surf our bow wave on the way to our second dive site. At the start of our first dive, a spotted eagle ray cruises quietly by us, unconcerned with our presence.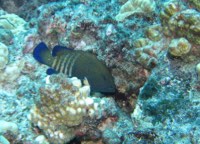 It is a grand start to our week of diving and we are looking forward to tomorrow already.