Let's talk "purses".  Most airlines allow guests to carry a purse, or a personal article with dimensions of 16cm x 33cm x 43cm (6″ x 13″ x 17″) and a maximum weight of 10 kg (22 lbs).
Both Murray and I carry what we call purses.  Murray's purse is actually a courier bag.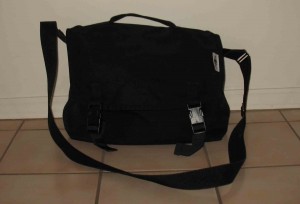 The dimensions of the bag are approximately 36cm x 30cm x 10cm (14″ x 12″ x 4′).  Murray usually carries a large camera, a zoom lens, a book, snacks, travel docs and wallet inside. It has both velcro and snap buckles to close the bag, making the interior pocket very secure.  It has one outside pocket, a large open interior with several smaller pockets, one of which has a long piece of velcro to close the pocket.  This pocket is quite secure so this is where the important things go. The interior is plasticized. The bag has a long shoulder strap.  Murray usually carries the bag over his shoulder and across his body for security and it also helps distribute the weight as it tends to be heavy.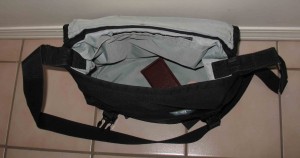 The courier bag is made by CourierWare at http://courierbags.com/.  They have a huge selection of styles, sizes and colours.
I have a selection of purses that I use, depending on the type of trip and where we are going. We recently bought a note book to take with us traveling, so I had to find a bag that I could carry it discreetly.  I wanted to be able to carry the notebook but not have my bag scream "She has a laptop with her!!".
Tom Bihn has a great bag called the Ristretto.  There are two sizes, one designed for an iPad, and one designed for a 13″ MacBook Air.  We could use it for our notebook and I like the design and the colours, but it's expensive.  Maybe it will show up under the Christmas tree.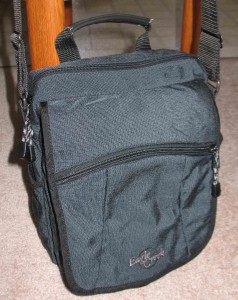 For now, I decided to use a purse that we had in the closet.  It is an older Eagle Creek over the shoulder (across the body) bag.  The notebook fits into it with room for other stuff too. Its dimensions are about 30cm x 25cm x 8 cm (12″ x 10″ x 3″). It has an exterior flap with a pocket (shown). Under the flap are a couple of small zippered pockets for pens, floss, breathe mints etc. And hidden under the flap is another larger zippered pocket that I put my important documents in. There is a large interior zippered pocket accessible from the top of the bag.  I would carry my notebook, e reader, glasses, camera and snacks etc in here.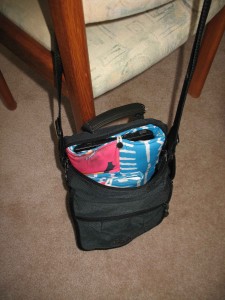 Until we bought the notebook, I carried a small over the shoulder bag that I purchased in Hawaii.  It is made by LeSportSac, has bicycles on it and is my favorite purse.  This bag is big enough (26cm x 21cm x 3cm) to carry my book or e reader, camera, wallet, snacks and important docs.  It has a zippered exterior pocket for pens, lip chap etc., a large interior zippered pocket and a smaller interior zippered pocket for the important stuff.  I cannot stress the importance of keeping those valuable docs (passport, tickets, wallet) hidden, secure and hard to access by a pickpocket.
If we are going on a dive holiday, I sometimes take a very small purse for evenings that holds my camera and wallet.  The one I have was purchased in Vietnam, is cloth and measures about 21cm x 16cm x 2cm.  I consider this an extravagant item to take on holidays.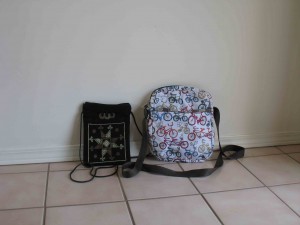 These are the purses that we carry.  Here are some ideas for you to think about when choosing a travel purse.  Happy shopping!
Where are you traveling?
What do you want to carry in your purse? Camera? Notebook? Book? E Reader? Water bottle? Wallet? Travel docs? Cosmetics? Kitchen sink?
What size of purse do you need to carry all that stuff?
What is comfortable?
Does the purse you are considering have a secure hidden pocket for important docs?