I got waylaid for about a week prepping, running and recuperating from running a marathon.  Phew!  It's done and now down to bags.
Carry on luggage, on most airlines, is limited to one standard article (suitcase, backpack, roller bag) and one personal article (purse).  The size of the standard article has a maximum size of 55cm x 40cm x 23cm (21.5″ x 15.5″ x 9″).  The personal article size is a maximum of 16cm x 33cm x 43cm (6″ x 13″ x 17″).  The bags must be a maximum of 10 kg (22 lbs) each.  I picked this off the Air Canada website and if you check other airlines websites, the requirements are similar, but do have slight variations.  For instance, Lufthansa's weight restriction is 8 kg (17.5 lbs) and they only allow one carry on bag.  Continental Airlines' weight restriction is a whopping 18 kg (40 lbs). It is best to check the airlines that you will be flying with to see what the restrictions are. We generally go with the Air Canada weight restrictions as anything heavier gets hard to carry.
There are more and more bags out there that fit the size requirements.  Murray and I have used bags for more than 10 years from a Canadian store called Mountain Equipment Co-op.  The bags finally saw their final trip last summer to China.  My son had a similar bag that he no longer uses, so I have adopted it.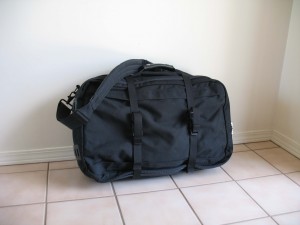 The bag is a previous version of the "Walkabout Travel Pack" that they sell now.  The dimensions of the older styles are within the requirements, but the newer bags are not.  This bag can be carried as a shoulder bag, or as a backpack.  Murray carried his bag as a shoulder bag.  I use it as a backpack as it is easier on my body as I have a tendency to lift up my shoulder that is carrying the load and throw my back into an odd shape. OUCH!  The bag has interior stays and can be bent to fit the shape of your back. The backpack straps are well padded and the waist belt is designed to distribute the load onto the hips. The backpack straps can be hidden in a zippered pocket when you don't want them.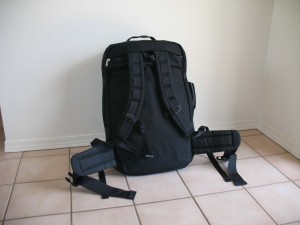 The interior of the bag has tie down straps and an interior zippered pouch in the lid.  There are also exterior tie down straps.  The bag came with a small day pack that attaches to the outside.  We found this daypack wasn't that useful as it was small and not the right shape to stuff jackets etc into.  We have left the daypack in the closet and use a different one when we need one.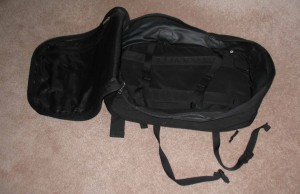 We are in the process of buying Murray a new bag.  There are a number of websites that have carry on specific bags that fit the dimensions needed.  I like the MEI Voyager Backpack –  http://www.meivoyageur.com/.  A few other websites are TOM BIHN, RED OXX, Rick Steves Europe and Osprey Packs.  Check them out and search for a bag that you like, keeping in mind the dimension requirements.  We are going to go look at Osprey Packs first – we are hoping to buy one locally and not have to order it on line. If that doesn't pan out we will go for a MEI one.
We like soft sided bags rather than the roller bags.  Having the option of converting your bag into a backpack comes in handy.  We went to France with 2 bike boxes, 2 carry-on MEC bags and 2 "purses".  We arrived in Toulouse by train and had to walk to our hotel.  We both put our purses over our shoulders across our bodies, our carry on bags on as backpacks, and then, handled our bike boxes with free hands.  It worked very well.  While in the train station, we saw two fellows, each with a bike box in one hand and a large roller suitcase in the other hand, trying to maneuver around people and then down the stairs.  It was quite amusing to watch because they weren't doing a very good job of it.  It was much easier to throw our bags on our backs so our hands were free.
I will talk about "purses" and daypacks next time!