I delivered Murray to B's house where a group is going to Taylor Lake to back country ski. I now have the day to myself in Banff National Park. The snow is abundant, so I am going to head to Lake Louise to cross country ski the Great Divide.
I head off and notice that the tracks have been blown over by the wind but skiers ahead of me have cleared the way. As I ski I think about a conversation I had with J last week about photography and how important light is. I decide to look for opportunities where light makes an ordinary photo into a WOW photo.
As I ski I realize how tired I am. I skied 21 plus km on Sunday, swam and did weights on Monday and my body is telling me it is tired. I bargain with myself that at 5 km I can make a call to turn around.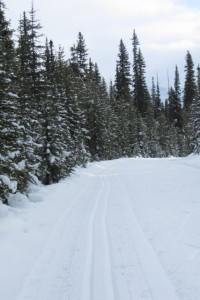 There are clouds obscuring the sun today, so there is a lack of sunlight streaming onto the fresh snow to make it sparkle. The wind whips around the trees, with their ready to fire snow bombs, and swirls the snow across the tracks.
I meet only 3 other skiers and it is very quiet out on the track by myself. Eerie for a city girl. I stop occasionally to look around for photo ops, cougars, critter tracks, others skiers. None anywhere.
At the 4 km mark, the tracks turn ugly (as it looks like only one skier has gone past this point) and I bail. The wind is at my back now and the going seems easier. I think about having soup and hot tea for lunch at Laggan's Bakery and Deli in the Samson Mall in Lake Louise Village. They make the best vegan tomato vegetable soup!
As I drive back to Banff I realize that the sun is already disappearing behind the mountains and it is only 1:30. During the winter, when the sun has such a low arc, it does not stay visible very long between the mountains. I manage to catch Cascade Mountain with sun on it.
The photo ops are few today, but as I walk along the river in Banff I come across an ice dragon!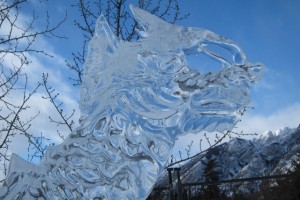 I now wait for Murray to return from his adventure so we can share stories.