We wake up in Yeppoon and hope to make it to Noosa today. It is about a 6 1/2 hour drive. Off we go.
Our first stop isn't too far down the road. We hike up a path to a lookout to see the Keppel Bay Islands. The view is beautiful with the sun reflecting on the water.
We also spy a couple of lengthy sandy beaches that would be great for swimming (if it wasn't soooo cold and if it wasn't low tide!).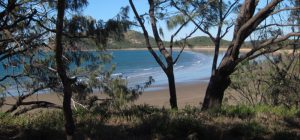 I drive first today, so I am at the navigator's (Murray) whimsy. As we drive through Rockhampton, he navigates us to the Rockhampton Zoo, which happens to be free. We spend an hour reacquainting ourselves with kangaroos, koalas, wombats, chimpanzees, crocodiles and the other zoo inhabitants.
We had been in Australia many years ago when our kids were younger, and seeing these animals brought back memories of when we were here last.
We drive south through Gladstone, which has a huge coal fired power plant. We see conveyor belts running under the highway, over and highway and in the distance, most likely carrying coal to the plant.
As we drive south from Gladstone, we realize that we are not going to make it to Noosa before dark. We do not want to drive in the dark for two reasons. First, the kangaroos are a danger and second, it is hard to find a hotel to stay in in the dark. The street lighting is not as good here as back home, so we have driven by hotels not realizing they are there.
We make an alternate plan to stay the night in Hervey Bay. As the sun slowly sinks to the horizon, we, once again, arrive at our destination at dusk. Our timing is not very good.  Find another small motel to spend the night in and indulge in fish and chips from a popular take out shop two doors down.
Hopefully tomorrow we make Noosa!