Quiet night in Bowen. It was as if we were in the wilderness. No noise what so ever. Strange small town but if you want to get away from it all this seems like the place.
Our first goal for the day is Airlie Beach just a few miles down the road. This is an upscale, modern and very busy corner of Queensland. It is busy today and this is mid winter. I don't think I would want to visit in the summer but today we are able to park close to the beach and walk the esplanade without too much problem.
The town keeps the place in very good shape. The grounds near the beach are landscaped to rival an English garden. The maintance crew keeps the place looking great. The tide is out and we are unable to swim as the sand ends far above the waters' edge but for those unable to hold themselves back there is a pool with a sand beach they call the Lagoon within sight of the water. Really nice place and totally worth a visit.
The road is much the same as yesterday. There are fewer cane fields. Mostly we pass ranches or farms and every now and then wilderness. Every few kilometers another outcropping of civilization appears and we have to slow down.
Next stop Mackay. Really nice small city. Everyone is friendly and no one is in a rush. We drive to the center of town and back out with no trouble what so ever. In town we wander the streets viewing the historic buildings and find the Cool Mango sandwich shop for lunch. I don't know if it would be worth spending many days here but I would definately make a stop and see what is there.
The road continues south. There is not much between Mackay and Rockhampton. It is a lot of fast travel and rough country side. There is one long streatch where for some odd reason the speed limit jumps to 110 km/hr.
The road it self is not appreciably different from any other part of the road but we up our speed to match what is posted and fly along with rest of the traffic. Now this should help us arrive at our goal sooner but the Australian road crews are out in full force and literally every 2 km there is another road works sign attached to a speed limit sign slowing us to 60 or 80 klicks.
The highway carnage continues and I am able to absolutely identify some of the road kill. Definately 3 kangaroos, I think one koala, several birds and an assortment of small mammals. One weird thing about travel here is we are not getting any bug splatter on the wind screen (shield). You would think in the tropical and semi tropical regions there would be a tremendous number of bugs to mess up the windows but there seems to be significantly less then there is at home. Maybe they are just smarter bugs????
One of the highlights of the day was seeing several herds??? of kangaroos. Once I spot one group I am able to find a few more. It is like finding creatures diving, once you have seen the critter the first time you seem to be able to pick them out easier. I think the Aussies consider the 'roos' pests but for us they are a novelty and we scare one group and get to watch them hop away. Almost out of some fantasy movie.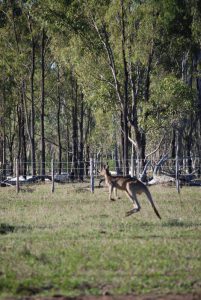 We want desperately to arrive in Yeppoon before it getsdark and we squeak in. The last vestigages of light were still apparent when we round the corner onto the beach front drive, spot a small motel and are able to register before dark. By the traffic noise I hear outside our door at 8pm I don't think it will be anywhere near as quiet as last night.