We have just returned from a fabulous time on Fortway Drive underneath the High Level Bridge, in Edmonton, watching the Prologue of the Tour of Alberta.
We arrive early and scope out the best spot on the hill for photographs. We choose a spot on a slight curve where we think the cyclists will come close to cut the corner for a more direct line up the hill. Shortly after we arrive, riders start to do warm up laps and groups come up the hill.
Murray gets a chance to practice taking shots. We think we have chosen a good spot as some of the riders come within 5 feet or less of us as they ride by.
Soon it is 6:15, the race marshals and a contingent of motorcycled police zoom by. Within minutes the first rider powers up the hill. The spectators send out a resounding cheer that follows the rider up the hill. Clapping, cheering, bell ringing all send up a cacophony of sound.
Some riders are on time trial bikes, some are on road bikes. The KOM (King of the Mountains) jersey is given to the rider who rides the fastest up the hill we are on and we are told that if a rider is trying to win the jersey, he will be on a road bike. If the rider is going for the overall time win, he will be on a time trial bike.
There are all sorts of spectators – kids, cyclists, teens, seniors, families and even a chipmunk, or is it a dog?
Mur, our friends R&A, and I cheer each rider as he spins by. We cheer a little more loudly for those riders that we are familiar with from the European Grand Tours.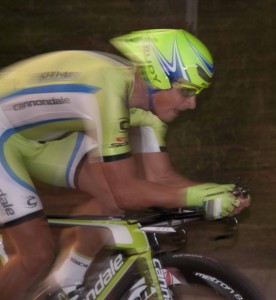 The tour organizers astutely place Peter Sagan, Cadel Evans and, our fav, Ryder Hesjedal at the end of the Prologue Starting Order. We wait in anticipation of these 3 riders and before too long, they are climbing up the hill. First Peter, then Cadel….
And then Ryder….