One of the last lists is the Toiletries list, which is now on a page under the Packing List menu item.  It is a pretty obvious list, but, again, the list is there so we are not trying to remember all the items every time we pack.
Many of these items have to go in the 1 litre ziploc bags.  Murray talked about solid form alternatives to a lot of these items.  For Bonaire, we will probably take both solid form and liquid form so we can test some products.  The following liquids must go in the 1 litre bags:
Hair Stuff
Moisturizer and Cosmetics
Noxema
Shampoo and Conditioner
Shaving Oil
Toothpaste (we never take a full tube – partial tubes always)
When transporting toiletries as carry on, it is important to use containers only as big as you really need them.  The containers have to be less than 100 ml, which is actually a pretty good size.    We did a test years ago as to how many days we could go on a tiny bottle of shampoo and it was quite a few – but you have to know that Murray is bald and keeps his hair that he does have extra short and I have short hair.  The amount of shampoo used for washing hair can also be reduced – I know I get sloppy in how much I pour into my hand, so if I am careful, I can actually use a very small amount.
Practice packing the 1 litre bag (prior to the night before your flight!) to make sure everything will fit.  It is doesn't, something has to be left behind or downsized.
Containers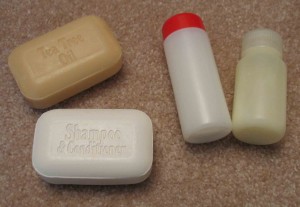 On the left are the two new bars of shampoo.  The beige one also can be used for shaving. The white one is shampoo and conditioner
On the right, the red topped bottle is liquid shampoo and the white bottle is conditioner.  Both these bottles are about 40 ml, which will be enough for Bonaire.
This small container idea applies to all the cosmetics and toiletries you take.  The brand of cosmetics I use gives out free samples and I save these specifically for travel.
The yellow tube is moisturizer and is 15 ml, enough for Bonaire.
The clear bottle is 30 ml and is facial cleanser. Quite tiny, but we are only going for 10 days.
Here are a couple of other bottles.  The white one has sunscreen in it and is from Mountain Equipment Co-op, a "Humangear Go Toob".  It is 88 ml.
The clear bottle is 100 ml and was purchased in China. I bought it to replace a broken liquid laundry soap bottle.
Other Stuff
We take nail clippers for trimming toe and finger nails.  As long as the nail file part is taken off, they are accepted in carry on luggage.
Razors and blades are now accepted in carry on luggage, so we each take our own.  Before they were accepted, we would buy disposable ones once we got to our destination.
Here is the tooth powder that Murray talked about as a replacement for toothpaste.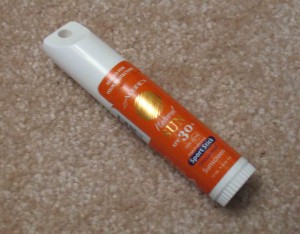 Here is the stick (solid) sunscreen.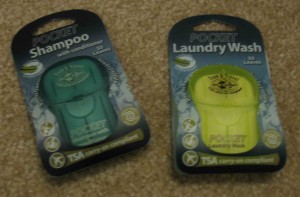 And finally, here is the shampoo and laundry soap that Murray talked about that comes in thin leaves in small packs.
The best thing to do is to personalize your own toiletries packing list as ours is very specific to us.