Friday
The folks from New York show up today. Travel mode. The plane is over loaded and some of the bags had to remain in San Juan, K and S have their passports in a bag that stayed and they have to sit on the out of the country side of the airport for about an hour waiting for their bags to catch up to them. We visit and chat with the folks on the close side of immigration. After what seems like forever, we are on our way to Coconut Grove.
Supper tonight is at the Fat Virgin's. We ferry from the Gunn Creek dock to the Biras Resort dock. The Fat Virgin's has about 12 picnic tables outside on the pier and a shack for a kitchen. Wahoo, grilled, salad and fries is the choice entrée. The nine o'clock ferry is loaded with our group and various workers from the pier area. Murray has fun kibitzing with the locals as usual.
Saturday
Today's diving is all about the surge. Surge is not current nor tide, it's surge. As we lay in the water not moving, the surge pushes us first forward and then backward. It is quite soothing if you just go with it. I watch the soft corals bend and sway with the surge and kick only when I the surge is going in the direction I want to move.
Our second dive finds us swimming into a cave! The entrance is quite wide and there is an opening to the sky for light. Becca, our dive master, K, Murray and I swim in using the surge to propel us forward. The cave has a school of Glassy Sweepers milling about. The cave isn't scary but I know the way out is just behind me and is wide enough to see the other divers waiting for us.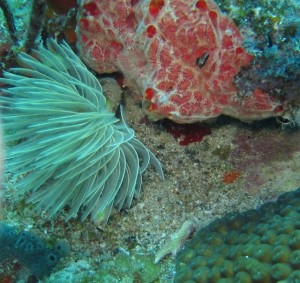 We dawdle under the boat not wanting to leave the surge and the undersea world. We extend our dive time to 66 minutes.