The Salt Pier is one of the iconic dive destinations on Bonaire. Everyone goes there. It's busy. Sometimes there are up to 15 trucks lined up along the shore. We usually avoid the place.
But today is turnover day and many divers are flying home or newly arriving, so we decide to dive the Salt Pier as we know it shouldn't be congested. And we guess correctly. There are a few trucks lined up, but not the usual hoard.
Last time our friends C&D dove the pier they were disappointed in what they saw so we are hoping they see more this time. And they do.
As we are swimming on our backs out to the deep, I spy a small turtle in the shallows. A great start to the dive and we are not underwater yet.
It only gets better as we find many spotted drum fish, including a teenager.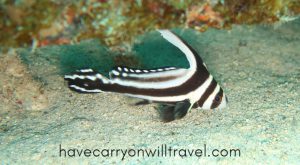 In the same spot is a juvenile truck fish. He is cute because he looks like a dice.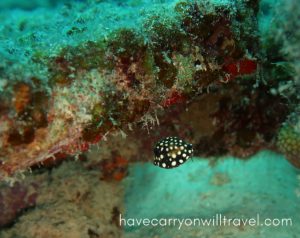 The fish and other creatures are abundant at the pier because all the discarded construction debris makes for a great reef. We ignore the grates and concrete and rebar and concentrate on the wildlife.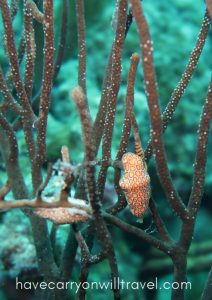 We spend over an hour under the surface enjoying the nature but we have to go back to shore eventually as we are running low on air. On our way in to shore, I swim over an octopus and we spend time following it. As he swims, he is one colour, but as soon as he settles on a coral, he changes colour and pattern to match the coral. What a marvellous creature. What a great dive!