Travel is sometimes, not always, a test of one's moxie. On Tuesday, we sat the day out in a resort watching Cyclone Keni pound the hell out of Fiji. We were a 100 km north of the storms center but it was still an experience to live through. The Fijian gods, for some reason, don't seem to want us here.
Last November or so we were all set to board a live a board and ply the waters of the Bligh Strait and dive our hearts out. We had paid for the entire trip and our friends D and C were booking a room to join us. One evening I get an email from D asking me to have a look at the dive boat website as there seems to be something wrong. As soon as I see the email I go to the Fiji Siren website and damned if the boat had not sunk. Damn, we were looking forward to that. The boat was beautiful and it would have been a good way to see the underwater world of Fiji.  Our flights are booked and at this point in time we have 6 months to reroute ourselves and find a land based dive outfit to do our diving from. A bit of a fluster but quite doable and we landed at the Volivoli.
Today we arrive back to the resort after diving to an email telling us Cyclone Keni has blown the resort we were headed to next week to bits. Literally. The island, Kadavu, in question was in the path of the center of the storm and all but three of the bures (villas for lack of a better word) were blown from their foundation and are not part of the surrounding landscape. Not only that, we found out later the flight we had booked to go there had been cancelled.
This time we have exactly 3 days to find somewhere we can go that has room and has a way of getting there. We know the path the storm took, so we have a quick look at the islands that may not have had too much destruction. Places like Vanuatu or New Caledonia, both different countries but what the hell, we have to think a bit out of the box, and Fijian islands north of us, Vanua Levu and Taveuni, which should have escaped relatively unscathed so they are options as well.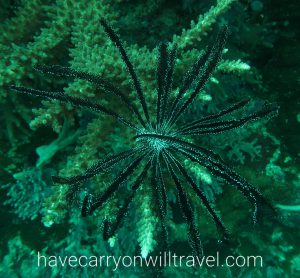 Debbie goes off to see the manager, Simon, of the Volivoli for recommendations as to where he thinks are possible venues. One place sort of stands out and our cursory look at the flight schedule says we can get there. It's the Paradise Resort on Taveuni Island. Should work. So the kind manager makes a lead call to his counter part at the Paradise, hands us the phone and the deal is done. With the caveat that we can change our flights. Things look good on our first try.
One more phone call to Fiji Airways to see if we can change the flights. Debbie passes on the Reference Number of our reservation and the first thing the lady says, oh your flight has been cancelled. Not that we have gotten an email or anything but I guess we were not going to our original destination anyway. They help us chose a flight to the new island and we seem to be set.
All in all it has gone too smooth to this point but if it works we will be happy. Hopefully the Fijian deities will not interfere and the next week and a half will proceed without incident.