We are walking down Omotesando Road in Narita and it is 8:00 am. We are the only ones around. It is Saturday morning and the residents are sleeping in. We know the temple is down the road and that is where we are heading. When we arrive there, we notice the differences in architecture between Japanese temples and Myanmar and Thai temples. The lines are cleaner. The colours more monochrome. There is more natural landscaping and pruned vegetation. It is refreshing.
When we passed through Frankfurt a couple of years ago, we happened to be there on a Sunday when all the museums were free. Today the admission into the Calligraphy Museum, on the temple site, is free. We stroll through marveling at the calligraphy on large sheets of paper.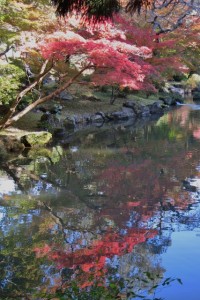 We have timed our visit, quite accidentally, with the turning of colours on a particular tree. Its leaves are a bright red colour and we spend time shooting photos of the sun passing through these brilliant leaves. Other walkers have also noticed the effect and are happily photographing.
We walk the grounds, up steps, to lakes, over stepping stones to a waterfall, around old halls and temples and finally wind our way back to the main temple. There we see many young children dressed in traditional costume. We ask a couple of people and they tell us that when a child reaches an odd number age, say 3 or 5 or 7, it is celebrated by dressing up, going to the temple and out for lunch with family. The little girls look especially cute as geisha.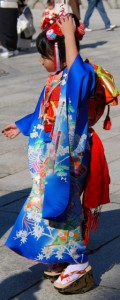 On Omotesando Road there are now more people about and the shops and restaurants are open. We stop at a shop that is selling rice cracker snacks, large round waffle crackers dipped in soya sauce. I'm ecstatic! A snack Debbie can eat. 250 Yen and totally worth it. The people we pass are reserved, friendly and not loud or brash. The talking horns are non-existent. We poke around in the shops, walk around some of the back roads and then go looking for lunch.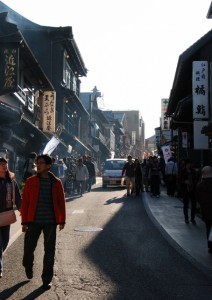 We end up at a restaurant called Onoya. We order chicken with rice and soup and sobaya noodle soup with tempura. We learn the sobaya is noodles made from buckwheat. Buckwheat does not have gluten in it, so it is Debbie friendly. The food is good, if not delicious. We try each other's food and do not leave hungry. In Japan, soup is eaten with chopsticks and by picking up the bowl to drink the broth. I could get into this. The staff at the restaurant are super friendly and are very willing to help out the only two English speakers in the place.
We walk some more and then head back to the airport with tired legs and feet for our long haul over the Pacific.