After a short two hour drive over the scenic route called "The High Road to Taos", we arrive in Santa Fe ready to explore the city.
First impressions of the city (approx. population is 60,000) indicate it would be comfortable place to live. It is not busy, the roads are not crowded, the downtown core is walkable and the people friendly. There is a ski hill not too far away and the city itself gets minimal snow.
The Georgia O'Keeffe Museum is a stop worth making. Her paintings are exquisite and the short films about her life very informative. Her art done in the 20s and 30s when she was painting abstracts was ahead of its time. We decide there is are a number of her works we would hang in our house, given the opportunity, of course.
Our walk continues through the plaza, the centre of Santa Fe, towards Canyon Road where there are over 100 galleries along the street. We stop in at a number of them to view the paintings and sculpture. The gallery staff are very friendly and chatty. There we find several pieces we like and would also hang in our house, except for the exorbitant price tags. Gallery browsing is a great way to see where art is going and what is being created out there. Bronze mountain sheep, kinetic wind mills, abstract watercolours of desert sunsets, brightly coloured oils of horses, metal cast origami cranes. Art for your garden, walls, office, atria.
Driving the last few days through the many different landscapes viewing them for the first time, and forming impression of our own and then spending the last two days seeing how others see the same environment is very enlightening. Colours and lighting are what really stand out.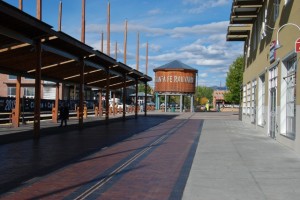 We walk back to our hotel through the Railway Yards that have been renovated to house shops, restaurants and a farmer's market. We have enjoyed our day in Santa Fe and will take back the visions of all the artwork we encountered.