Breakfast is served at 8:00 but Murray gets up well before that time. I roll out of bed and wander downstairs a few minutes before. Breakfast is two courses, a cereal and fruit course followed by a hot meal of pancakes and bacon, or eggs, toast and ham.
Once we have finished, lunch fixings are laid out and everyone makes sandwiches or wraps with a variety of meats, cheeses, veggies and condiments. The selection of cookies and desserts is enormous.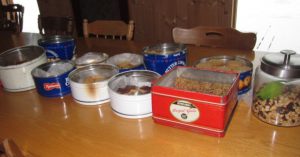 Dishes are done by the lodge caretaker and two helpers from our group. I think the two helpers are more for providing entertainment for the washer than anything else. We all get to know C, the lodge caretaker.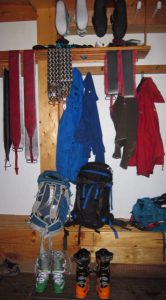 We start the process of gearing up. Pack our packs with lunch, tea, water, heavy jacket, goggles. Put our boot liners inside our boots. Get dressed, long underwear, ski pants, shirts, avalanche transceiver, jacket, hat, sunglasses.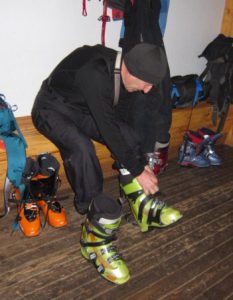 We then make a dash outside to put our skins on our skis. Back into the lodge to put our ski boots on, double check we have everything, don our pack and head outside.
Hook into our skis, make sure skis and boots are in walk mode and off we go for another day of powder.