I am sitting on the bed in the Sonderborg City Danhostel eating licorice and wishing for bedtime. Yeah, I'm pooped, again.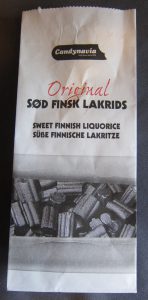 Murray indulges in an island delicacy this morning at breakfast in our hotel. Aero pandekager. He says it is really tasty, sorta like a small elephant ear we can buy at the exhibition. To me, it looks really good with icing sugar sprinkled on top and a bowl of mystery berry jam and I so want one!
We follow bike route 91 this morning from Marstal to Soby, where we are to catch the ferry. Rolling countryside, dairy farms, fields of wheat. Picturesque. We pass by the occasional table sitting by the road at the farm with jars of jam or honey for sale. All on the honour system with a little can to deposit the payment. We are tempted but our pannier space is all used up.
We ride along the coast for awhile and the ocean is a dark grey blue colour with sail boats whizzing along.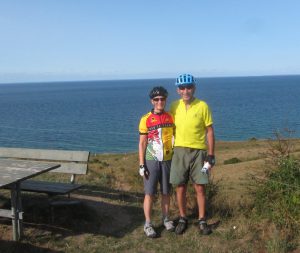 We turn inland again and encounter the steepest hill yet. Fortunately it was not too long and we were both able to stand up and peddle over it. Heart rates and breathing maxed out though! There are small villages dotting the countryside. The villages are maybe a grouping of two or three houses or farms. Many of the houses are joined to thier barns making it look like one big building. The island of Aero is known for its hiking and cycle routes and this portion lives up to the hype.
The sections of the road are gravel. Our view becomes what is in front of us down on the road as the surface is not ideal for stability. This part of the ride is hard and not so pleasant, but we remain upright and on pavement once again.
We take some down time while waiting for the ferry and watch the excitement at the dock. A boat sitting at the dock toppled over and hit the pier with a loud bang. In no time there is a group of workers trying to right the boat before it sinks. Apparently the boat did not have an engine in it yet and it looks like there was some heavy something on the deck that may have unbalanced the boat. When righted it sat very high in the water so the stories we heard sound plausible.
Once off the ferry, we have 30 km to reach Sonderborg. We take a circuitous route to stay off the main road and get slightly lost and then found and then lost again but then do end up in Sonderborg. Funny how that happens! We always call out to each other "Bike Up!" when there is an approaching bike. Once I got to call out "Horse and Rider Up!" This portion of the ride was just a ride for me, get 'er done. Sorry, Murray.
Tomorrow will be our longest ride. It is about 70 km to Tonder. Music awaits.