Sitting on the edge of a cliff, we ate our breakfast overlooking a beautiful valley. The Teesta River, which is fed from the Himalayans, runs through the bottom of the valley.  The hills rise up on all sides and some, like Kanchenjunga and its neighbours, are privileged to be crowned with the snowy peaks.  How can we leave this view and being served breakfast each morning?
But, alas, we are off to Phuentsholing, Bhutan today.  Our taxi driver, the one with the big smile, arrived and we are off.  The trip was uneventful and sometimes even fast. There is a National Road leading to Assam, which is quite well maintained and we managed a cool 90 kph on sections.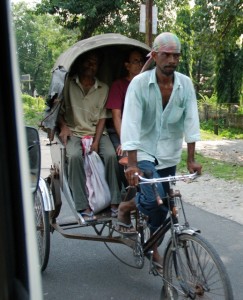 After getting our exit stamps from the Indian side and entering Bhutan, we found ourselves in the lap of luxury again.  The Hotel Druk, where we are spending the night, is pretty much a 5 star hotel in my books.  Air conditioning, well appointed, bathroom goodies, all the niceties. I said to Mur "I could get used to this luxury thing!"
When crossing from India to Bhutan, it was like crossing from night into day.  Less traffic, less noise, less people, less congestion.  The line was right at the border and it was definitely noticeable, we have never crossed a border and noticed such a dramatic difference.
Met Tashi, our guide for the next 14 days. Well spoken, very gentile but enthusiastic.
We wandered around Phuentsholing, which, by the way does not see many tourists; we figured. Saw a sign advertising a soccer game between India's Kalimpong Football Club and Bhutan's Phuentsholing Football Club.  We realized the game was on, so walked over to the soccer pitch.  It was half time and the score was 3 to 2 for India.  We watched some of the second half – the teams were evenly matched and there was a lot of back and forth. We have done pretty good – 3 soccer games in 3 days.
Dinner, laundry, showers and to bed as we rise early tomorrow for our drive to Paro.
Stage two of the journey , Bhutan, begins.