I'm sleeping hard, totally dead to the world. We are about 12 hours out of sync from where we left 4 days ago. We tried to sleep on the airplane on the way over and did get an hour here and there. We arrived in Bangkok at about 10pm and did manage to get some sleep on and off before having to awake and get on a plane the next morn. In Mandalay I force myself to stay awake till 9:30. I do not remember trying to go to sleep and then it is morning. Each day since I sleep very deeply. For some, jet lag is the cause of much consternation but for me it just provides a platform for 3 nights of tremendous repose.  
This morning I whisper to Debbie we are going to tell Ow that we want to visit a maximum of two temples today. He could pick, but only two. The rest of the time we want to wander a village, check out an oxen cart and visit a farmer's field. So today we meet Ow and he tells us there is only one temple on the agenda. How did he know? First stop, a peanut roasting place. Shake down and sort the peanuts, roast them and package them. I like peanuts so I am totally cool with this stop.
Then to the vermicelli making establishment. I'll summarize the visit with this; if you want to continue to eat noodles I would not recommend a trip to a noodle factory.
The low point of the day is the temple. Not only did I not want to see another damn Buddha, this temple had 582,268 of them. That in fact is the number it had when the temple was first built. No one knows for sure how many there are now. Occasionally for one reason or another, a Buddha disappears from the flock; like each time there is an earthquake one or two fall. Then of course there have been some added over the years. No one is willing to do a count so the exact number today remains a mystery.
We are off to a real village, sounds like something of interest, but we have heard such before in other countries and when we arrive we are met by a group in traditional costumes that soon perform traditional celebration dances and then show us to the traditional craft shop and expect us to believe this is what happens in every village in the country. When the car stops to let us out the only folks here to meet us are a gaggle of village kids. Rough and dirty in street clothes just like any little kid would be in back home. The difference for the ones in traditional Myanmar clothing is it is their everyday wear. The other kids are in blue jeans and t-shirts. There are no other tourists around and there is no grand theatre or souvenir shop.  We wander up and down the street talking to ordinary people and observing how they live and work.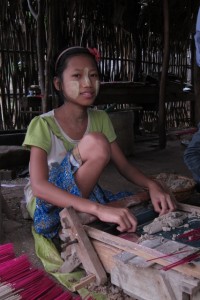 One family of farmers makes incense sticks in the off season and are gathered inside making paste and rolling the paste onto a stick with a machine similar to what my grandfather used to roll cigarettes. Another fellow is busy making teak furniture. Not the kind westerners are used to, much rougher and more utilitarian but sturdy and useful. At the kitchen table of another house is an older teen boy working on the ubiquitous laptop doing physics.  Their life seems pleasant enough, the people we meet are happy and none of them look short of what they need. As we prepare to leave we realize another tourist bus has pulled in. So the village is on some part of the T. trail but it is not crowded and I do believe none of what we see is staged.
Life seems pretty relaxed here. There are not many people one would call destitute but a good number of people have time to chill. They must put in time at making a living at some point but wherever there are people there are those that are involved in pursuits of personal interest, chatting, fence making, metaphorical coffee, midday soccer games, day dreaming.
Today in two different spots the highway has been flooded. Not deep but still covered in water. The roads are good but not perfect and there are a few holes that are best missed, much like the roads in Edmonton. So, at each flooded spot there are 3 or 4 guys wading back and forth in front of the vehicles guiding them past the potholes by feeling them out and then directing the cars past the danger. They are doing this as a free public service. They are filling some of that chill time with a very valuable public service and at the end of the day they will have some good stories to tell I'm sure.
There are also an inordinate number of celebrations. Whole families and groups of friends are out midday, midweek celebrating one thing or another, a young boy is inducted to be a monk, a wedding, a coming out type party for a young girl. All this when from a westerner's point of view these folks should be working but these events are important and obviously important enough for large groups to put all else aside and gather.
Ow fills me in on the difference between Myanmar (pronounced; Me an mar) and Burma. Myanmar is the country. Burma and more properly Burmese is the people. The rest of the world seems to have a problem with the country being called Myanmar but that is what the people here call their own country. It is not a name forced upon them, it is THE name.
Today is the last day with Ow. We are going to the jetty to connect with a different guide, Zawmaung, Zaw to us, and a boat to transport us on the  Ayeyarwady River to Bagan and literally 6,000 temples. I sure hope there are a few that are exciting enough to tweak some interest. The ride on the river is peaceful except for the exposed unmufflered engine making an extraordinary amount of noise.
We arrive in Bagan and it is back to the land of the tourist. The tourist trail in Myanmar is well defined and we will have very little opportunity to duck away and see what has not been already prepped for our arrival. We walk up the river bank and have to run a gauntlet of tauts and we repeat our mantra, Ya day, Ya day, Ya day, over and over until we reach our car. (Ya day is our phonetic spelling of No.)
There is not much time left in the day so it is straight to the hotel. We are all too tired to venture far and even though the hotel restaurant is not very interesting we opt to eat there. By 7:45 we are finished eating and every one of us is nodding at the table. My deep sleep is great but it does not seem to be helping me at the other end. Debbie and I have some chores to do, laundry, the blog, accounting but we do not finish half before we are on the bed and fast asleep. I guess we will have to continue with the theme of the trip and finish tomorrow what we did not get to today.