Long day. The sun shines today and we have our eyes on a south facing slope. The trick is to get up and ski it before the sun starts to make the snow wet and sticky. We don't really hustle to get out of the lodge early and the group is diverse and travels at varying speeds. It takes us quite a while to gather up at the top and turn the skis down. The snow has started to turn but as yesterday we all have smiles when we hit the bottom.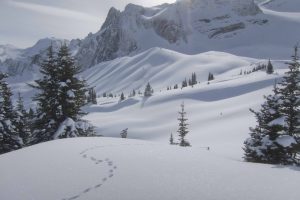 After another trip up to the top of Mohawk the group splits again. Some head in the direction of the lodge and another group heads in the opposite direction. I go north, away from the lodge. The slope is steeper and the snow is deep. The run is awesome. J, G, R, and I ski a ton of turns with shin to knee deep snow. The tour back has its moments. We traverse Sarah's Soiree a very steep slope covered in rock rubble from some long ago collapse of the rock face above. I am not really comfortable walking across that but there isn't much choice as we have to get back to the lodge somehow. Once past the slop we find a real nice slope so we ski to the creek below and find an uptrack and our ride home.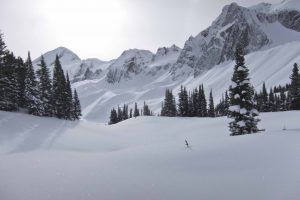 One last uptrack to the top of Redcliff and some sweet turns to the meadow we had passed through much earlier in the day.
All in all another banner day but boy am I tired.