Today is the first full day of skiing. There is an uptrack adjacent to the lodge leading to Heather Ridge. It is a mostly treed run and it ends at the lake you see from the lodge. The slope is not aggressive, it is sheltered from the wind and has not been skied since the last snow.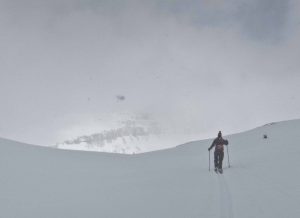 The folks at the lodge before us were not resident and so their uptracks are to be followed with a bit of skepticism. You never know how they get to the top. We start out following what we think is an uptrack, it ends up being a well traveled downtrack, which means we have to uptrack to the top for ourselves. Bad luck at the start but we make it. At the top, the snow starts to get a little wind packed so we stop and gear up to ski. The run is amazing. 60cm of snow, so skiable. There are smiles ear to ear. One more time with the same result.
The group split up in three or four at this point and J and I went west to Redcliff. Three trips up and three trips down. Deeper snow but shorter runs.
Today we experience what we come up here for. Skiing.