Our ride from Middelfart to Odense takes us through the countryside again. Murray spies small purple flowers on the side of the road and we stop a few times to get that perfect photo. The flowers have "ripped" ends on the petals which makes them Seem so fragile.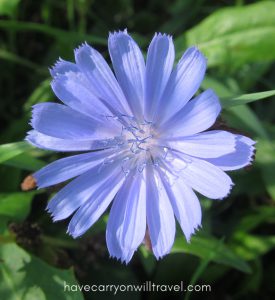 We stop at an intersection and we find a huge mushroom. It's big enough for a meal! Although I don't know if it is edible.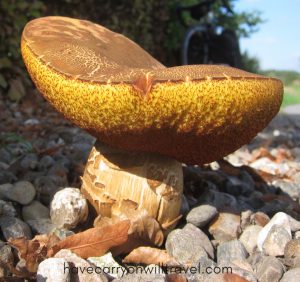 We arrive in Odense with tired legs but can't rest as we have stuff to do and see. Train tickets for tomorrow are purchased. There is a long bridge to cross to get back towards Copenhagen and bikes are not allowed on the bridge, so we have to take the train across, thus the tickets.
We find a couple of art galleries we might go in, but one is permanently closed and the other doesn't interest us, so we pass. Then we go in search of a battery for my bike computer, find it after some hunting. Next, groceries for our breakfast and lunch.
Our next stop is Hans Christian Anderson's house. A small yellow corner house is where all those tales were written.
We have a date tonight with M, T, C and S, my cousin's daughter and her husband and children and G, T's nephew. We spend a few hours catching up on the family news, sharing stories and comparing Denmark to Canada. T has made a delicious pasta with Danish blue cheese sauce. Yum! We reluctantly say goodnight and head for our hotel and beds as we do have a train to catch in the morning.