Here is a detailed list of the clothing I took on our 6 day (5 night) kayak tour. We were given a 10 litre dry bag as a "day bag" and a 20 litre dry bag as a "camp bag". Once we got the hang of squishing all the air out of the bags, they condensed pretty good.
KAYAKING CLOTHES
Teva Sandals – Can get wet, great soles for walking on oyster shells. Keen Sandals would also be good. Both guides had them.
Technical Crop Pants – I would take longish shorts next time, don't take a belt.
Icebreaker Undies – My biggest coup was to take a pair for each day. I would start each day with dry undies under my damp pants.
Rashguard Shirt – 2 – I started wearing just one, but had to add the second one for warmth. I use rashguards for their sun blocking ability.
Light Jacket – I wore a light jacket for warmth, but it was getting wet each day. Next time, I would find a more water repellent jacket.
Wide Brimmed Hat – Geeky hat plus a glasses strap as I was wearing my prescription sunglasses on the water.
Paddling Gloves – When we started to paddled in the spring, when it was chilly, I was wearing an old pair of full neoprene scuba diving gloves. I continued to wear them all summer and on this trip.
Fuzzy – This was an older fuzzy that went in my day bag so I could don it at lunch time to stay warm. Had this one in case it got wet so my camp warm layer stayed dry.
Gortex Jacket – Since it was chilly, I carried my camp jacket in my day bag to wear at lunch to help stay warm. If the weather was hotter, it would have stayed in my camp bag.
Toque – I also started carrying my camp toque in my day bag for lunchtime warmth.
CAMP CLOTHES
Hiking Shoes – I brought along an old pair of hiking shoes. Runners would also be an option.
Wool Socks – 2 pair – 1 to wear everyday and a spare in case the first pair got wet.
Technical Pants – 2 pair – 1 to wear everyday and a spare in case the first pair got wet.
Lightweight Long Johns and Top – Because I get cold easy, I never camp without long johns. I wore these every day!
Icebreaker Long Sleeved Tops – 2 – 1 to wear everyday and a spare in case the first got wet.
Synthetic Down Jacket – I wore this everyday in camp!
Toque and Mitts – Toque got worn everyday. Mitts were not worn, but might have been if it had rained hard.
Gortex Jacket – This was my rain jacket but I wore it everyday for warmth.
Gortex Rain Pants – In case it rained. Were not worn.
PJs – I originally thought to wear my long underwear to sleep in but it was too hot, so I brought a light T shirt and slept in the T shirt and undies. In hindsight, I wish I had a light pair of PJ pants to wear as a clammy sleeping bag doesn't feel nice on bare legs.
Large Ziploc Bag – This is to put wet undies and any other wet clothes in to keep them separate.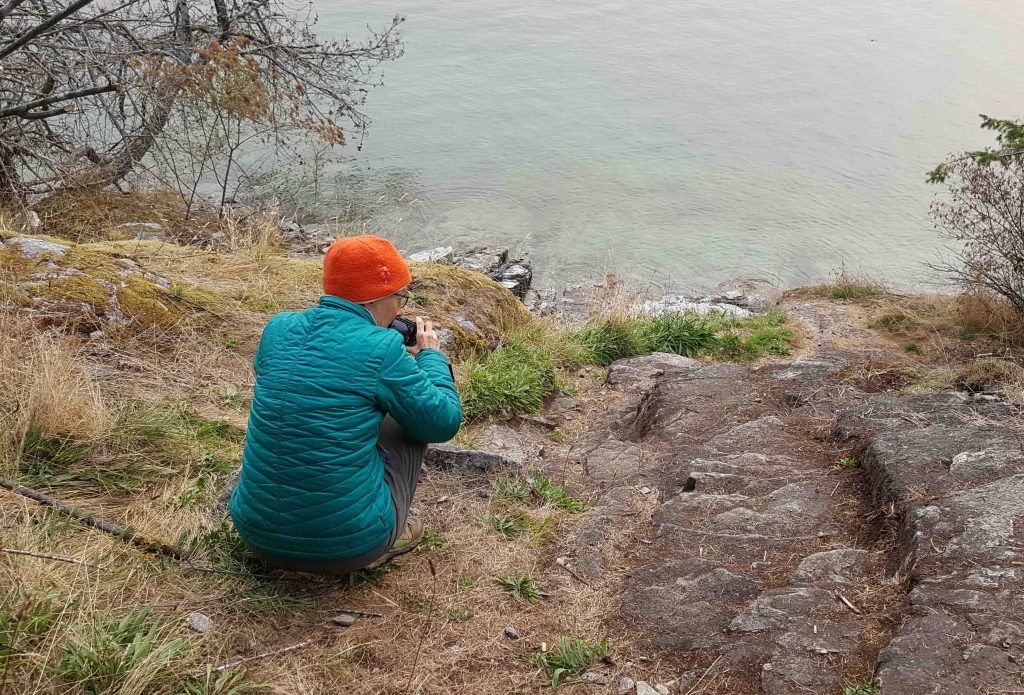 I brought my heavy down sleeping bag, which I found just a tad warm. But I would prefer to be too warm than cold. Next time I may test my lightweight bag before and take that one and wear heavier PJs.
I always take a few extra clothes in case of getting wet. For this trip I had one pair of extra socks, pants and a long sleeved shirt. I think this was reasonable and not too much extra. It would not be good to have a wet and cold Debbie.
For you ladies who are wondering how to work the undies. I would put dry undies on when we got to the campsite each day, under my dry camp clothes. I would sleep in my undies and wear them the next day under my kayak clothes. They would then be soaked and I would change them at the next campsite.
Murray's clothes were very similar to mine. He also took extra socks, pants and a shirt. He did not have a light kayaking jacket. He only had 1 pair of kayak underwear and 1 pair of camp underwear, so he put on wet underwear every morning. Yikes!
We paired down our toiletries to the bare minimum. We had a first aid kit that would remedy the basic hurts and sicknesses.
You will find a condensed version of this list under the menu item "Packing Lists" under Kayak Touring.