September 20, 2020
When we wake up, we realize we have slept 11 hours. We never do that!
We are meeting R&D at the Okanagan Falls Provincial Park Campground, so our drive is not very long. Once past Keremeos and all its fruit and vegetable stands, we turn north on 3A and then turn onto Twin Lakes Road and the White Lake Road to do some exploring. The road is windy and there is no traffic. The area is semi desert scrub land and very peaceful.
We come across a group of young people lined up to start a roller cross country ski race. They all look very serious at the start.
After turning onto Green Lake Road, what do we come across? Green Lake! This area is a cycling route and we spy a few groups of cyclists, some of them chugging up a ridiculous series of hills. Green Lake Road dumps us out to civilization right at the campground we are meeting at. Except the gates are closed and the lady sitting at the gate informs us that the campground is closed for the day for a special event. I phone my sister and we decide to meet at the North Okanagan Lake Provincial Park Campground way up on Okanagan Lake. We get there to find that the campground closed for the season that day. The four of us end up camped at the South Okanagan Lake Provincial Park Campground and it was good that we got there when we did as we managed to get sites right next to the water and the campground filled up pretty good through the day.
After lunch we launch our kayaks from our campsites and paddle south on the lake. Oh, my body is tired! And I am having trouble going in a straight line again. My sister and I paddle and chat and paddle and chat some more. We are not in a hurry and enjoy being on the water.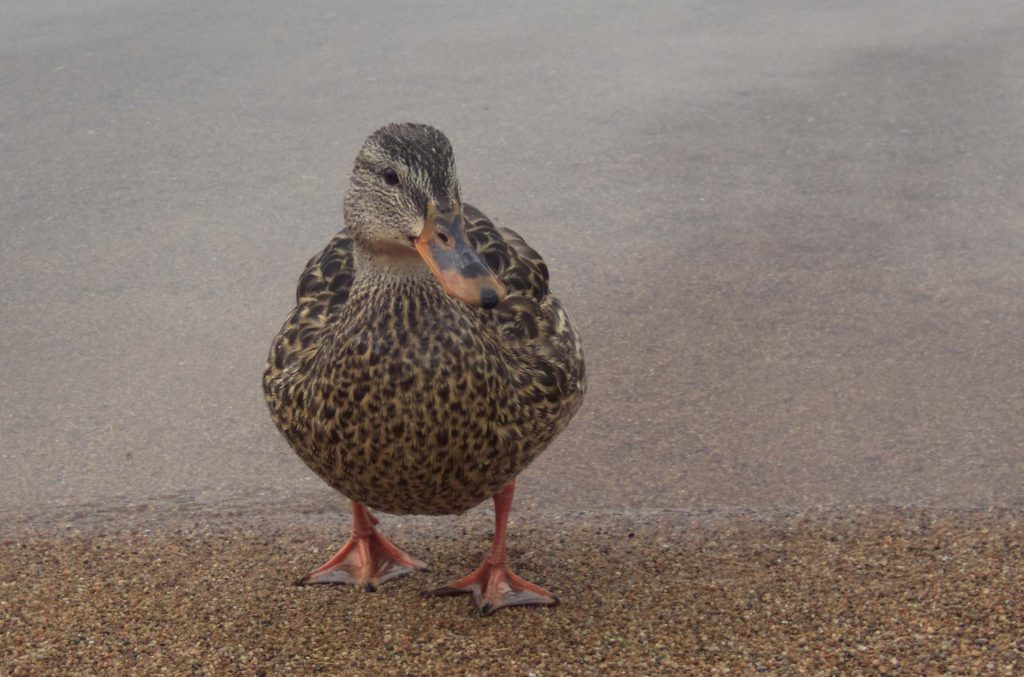 It is nice to be in the warm Okanagan again. We are drying out.
September 21, 2020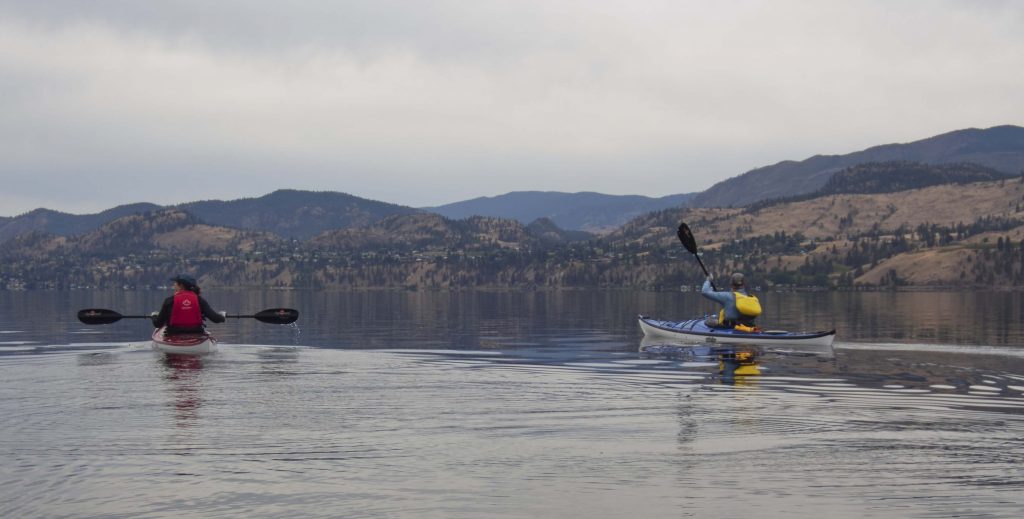 The four paddlers drive to Penticton to try Skaha Lake. Penticton is very quiet as it is off season for them. We paddle the lake south and the water is glassy. D wants to be back on shore by about noon, so we dock and eat our lunch in the park. As we are eating the wind picks up, as it does there, and we are glad we timed things as we did. The kite surfers start to gather on the beach, they like the wind.
We walk the concrete "boardwalk" on the Okanagan Lake side of Penticton as today it is not the windy side. After a good long walk, we head back to the campground and laze and visit the rest of the day away.
September 22, 2020
Time to really go home now. We pack up and get on the road early as we want to make Fernie today. We drive from orchards to grazing lands to forest. The tiny town of Greenwood is a cool place. It was a coal mining town and their unique buildings are well kept. The trees are not changing colour yet in this area.
We stop at Christina Lake for lunch, sitting right by the lake. The lake is warm, clear, long and quiet. There is a large beach that must get busy on a hot summer day. There are cottages/houses along the lake and in the town, the community looks like a vibrant one.
We are once again on Hwy 3 and it is very scenic with low mountains, lush valleys, wonderful vistas and funky towns. As we drive further east, we notice the leaves are starting to turn to yellow and orange.
As we approach Fernie, the Rockies appear showing off their alpine terrain. We camp at the Mt Fernie Provincial Park Campground. The campground is well laid out with large secluded sites. There are shower houses (although we heard it was all cold water!). Biking and hiking are easily accessible.
It is going to be a cold night tonight so we prepare by taking toques and extra PJs into the tent to sleep in.
September 23, 2020
Fernie is a funky place with personality. The old buildings are preserved and contain a variety of boutique shops. It would be a great place to stop and wander around in.
The trees on the slopes are dappled shades of yellow, orange and green. Winter is coming.
Just past Crowsnest, there are 5 small mining communities all in a row. One of these is Frank, where the massive land slide occurred in the early 20th century. Check out the Frank Slide Interpretive Centre if you go through that area. The remnants of the slide are still along the road and it is mind boggling thinking about the amount of rock that came down.
After Burmis, we point the car north on Hwy 22 (the Cowboy Trail). The road goes in a straight line for forever and runs through grazing ranch lands filled with cows and wheat fields. It is rolling land with outcrops of trees and very little population. The population increases as we approach Longview, Black Diamond and Bragg Creek until we are on the edge of Calgary's metropolis.
It has been 2 1/2 weeks since we left and in that time the harvest has started and the trees are losing their leaves. The land is a checkerboard of colours and patterns.
It is a fast drive north and before we know it we are pulling into our driveway. Home again.