Early, early, early. Jami said 6:15, we're there at 6:00 and La Baguette isn't open. They don't open until 6.30???? We spend our time on the 'summer patio' signing the waiver. Door opens at 6:31 and Jami is happy, we will probably make it to the heli on time.
Get to the pick up area and it is hurry up and wait. There is fog, or clouds or whatever. The machine makes it this far but we are grounded. No flying until the heavens clear. We stand for about an hour and other choppers start to fly up and down the valley, we are on our way. First time weather has ever delayed me up or down.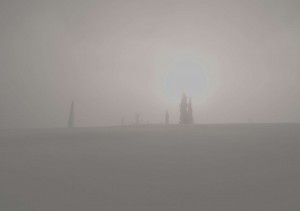 Once we get to the chalet it socks in again. We can't see any of the terrain we wanted to ski, so today it is tour by Braille. Kind of know where we want to go so stay high and work our way in that direction. Snow seems nice, about 40 cm new according to the pole, with a crusty layer under. Just like the avilanche report says. We find our way up without crossing anything with enough pitch to slide. Walking into the alpine the skiing looks great. There is a whack of turns to be had here. We can pick and choose where we want to go; no barriers on this slope.
Skiing is good. Snow is a bit wet but the skiing is smooth. We end up near our uptrack and do it again.
The terrain we have chosen is a wonderful introduction. No danger and trackless snow.
As the ceiling rises we can see across the valley and there is a huge area we will explore tomorrow.
The lodge is, I'd say, rustic, but cozy and adequate. Dinner was prepped before we came up and takes hardly time to prepare, we are eating by 6:00.
Not so much of a rush tomorrow, we'll be on the uptrack by 10:00. Looking forward to it.