We wrote the last two blog posts on the flight from Bonaire to Houston, with plans to post them in the Houston airport.  Both the Edmonton and Calgary airports have free WIFI zones, so we made the crazy assumption that other airports will have free WIFI.  Wrong! Couldn't post in Houston, so now I am at home, sitting in front of my desktop computer.  Here are our thoughts from yesterday.
We are on our way home. Our last day in Bonaire was a busy one. The newbie divers, Mur and I did a boat dive. Went out to Klien Bonaire, to a site called Bonaventure. It was a calm and relaxing dive. Once we got back, the newbies headed out with A to see the flamingos, shop and do some last minute errands.  Mur and I went for a last shore dive to The Invisibles, on the south part of the island.
Met some really nice folks out there.  As we were getting ready to dive, a young man from California was kind enough to explain exactly where to find a frog fish.  Unfortunately, not knowing what a frog fish looked like, we could not find him, although we were probably staring right at him. Our impromptu guide returned to shore just after us and he had found the frog fish so it was still at the designated spot, we just could not see him.
As we were exiting, an older man from Indiana walked out into the surf and offered me his arm.  We then walked into shore together.  He said he always helps his wife out this way. What a gentleman!
We have chatted with a number of folks staying at the Carib Inn and they are all very nice, willing to chat, share dive stories and tell snippets of their lives.
Dive folks are generally super nice people.  I am not sure I have ever met a nasty diver. It sure makes for a nice holiday when the people we meet are all so friendly.
It has been great traveling with our friends.  Murray and I were a little apprehensive about traveling with people we know as we have done the bulk of our traveling by ourselves. It has been a lot of fun listening to J, B, S and R describe their adventures in their open water cert class, hearing all the "pool news" from A and marveling at J and A's feats of wind surfing and kite boarding. Murray and I both agree that we would travel with this crew anytime.
The nine of us enjoyed a Bonairian farewell supper last night at Richard's.  We were able to reserve the table out on the dock at the restaurant. Richard even allowed us to bring our own wine. We had a delicious meal and shared stories from the past week – most awesome underwater sight, best thing to do above water, best restaurant and such. It was a wonderful way to say farewell to a great island.
My turn. My turn. If you are looking for a beach holiday or a resort that caters to your every whim and if this part of the world if calling you, go to Aruba. You'll not find this type of holiday on Bonaire. If you're one that goes to a place to see the sights, again Bonaire may not be an ideal choice as there are a few sights of significance, but only a day or two's worth. Bonaire is a great place, if you dive, or from what I can make out, if you windsurf.
The wind surfing (I do not windsurf so I can only go on my impressions of what is said) is good. I think if you are an 'expert' you can do well anywhere there is a good wind. On Bonaire the Lac Bay is a shallow, contained bay that is on the windward side of the island and is ideal for beginners and intermediate types to hone their skills in a non-threatening environment.
The diving is easy and very laid back. The sea life is abundant. You are not forced into any schedule but your own, if you choose to do a boat dive then you have to be there when the boats leaves but, if you shore dive, you can leave when you want, dive for as long as the air allows and come back when you want.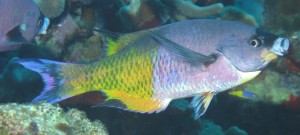 Debbie had a word with the fish last night and it seems that they will be awaiting our return so it looks like that choice has been made. It is only a matter of when.