We didn't mention Sedona yesterday as it surely was not the high point in our day. Arcosanti was the highlight, definitely. Besides the majestic red mountains surrounding Sedona, the town was Banff on a very very busy summer day. Too many people, too much traffic and too many shops.
Let's get onto today, because it truly was exciting…..
We gave each other this year's Christmas presents today and they were a helicopter tour of the Grand Canyon. We had thought of this idea yesterday, set a price limit, and one of the tour companies (Papillon Helicopter Tours) that we stopped at came in right at our budget number. And they had room on a flight only an hours wait away.
We fly over trees of the Kaibab National Forest and then drop over the south rim of the canyon. It is spectacular! The initial panoramic view made me hold my breath. The striations of the rock formations are brilliant and I now know where the Hopis get their colour palettes.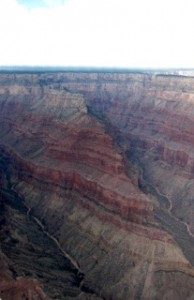 The Colorado River is a brown ribbon about a mile below us. The river is about 300 to 400 yards wide. That is 8 lengths in the pool we swim in! WOW! The river is bordered by lush greenery, the only bright green in the canyon.
The bottom and lower sides of the canyon are rocky and inhospitable with touches of sage coloured green. It is a wonder that any animal life survives down there.
After we land, Murray and I agree that this was a marvelous Christmas present. This is a great way to view the canyon without hiking down into it or riding a raft down the river.
We spend the next few hours walking the rim of the canyon with the myriad of tourists that visit every day. Driving east we stop at a few of the points of interest, seeing a different view of the canyon each time. The canyon is indeed one of the natural wonders on the planet.