We are headed for Castor Peak. The up track was set 90% of the way 2 days ago and we want to see what is up there. The travel is easy and there are no decisions to make so we get to tree line much faster today. Maybe 2/3 the time it has taken the last couple of days.
At tree line the wind is strong and cold, the vis is about 0. We have just traversed some of the sweetest terrain we have seen so far this week. The executive decision is made. We'll yo yo a couple of runs here and if it clears we will see if the peak is worth while.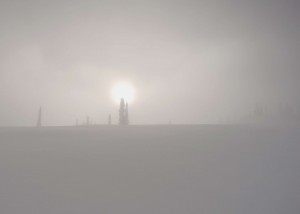 The first run is so good we skin up and do one more. The sky has not cleared so it is one more. Lunch at the bottom and hell let's do another. In all we do 6 runs today. Not super long but fantastic each and every one. The area we ski was trashed by the heli skiers yesterday, but their tracks are filled in for the most part and we just find lines they had not used. Knee deep snow, 50 turns long. WOW!
The terrain around Blanket Glacier Chalet is outstanding. There should be something to keep everyone entertained.
I have had trouble with the ski/skin combination of my fat skis since I first started skiing on them. Today with the slightly wet snow and the well worn track I was slipping every second step. I need to buy wider skins that fit the width of the shovel. I am stopped on a slope, start to slide backwards, and fall. I snap and crack my pole against my ski. The pole is now broken. It's our last run but even though using a broken pole is fine to ski with, it is real hard to push when we are skinning.
When we are almost to the bottom we realize we are a down a couple of drainages over from the one we need to get back to the lodge. Damn. Skin up again and crawl over a couple of ridges. Soon our up track is in front of us and we turn for home.
Good day, bad day.