We have a plan, we have flights, all we need now are places to lay our heads at night.
When we were figuring out flights, I printed out a calendar for September and October and wrote the flights on the proper dates. So now we have a good idea of which locations and dates we will need hotels.
Murray is much better at sifting through the myriad of hotels in large cities so he tackles Singapore and Tokyo. I get overwhelmed in these metropoli, so I pick Manado and Sorong to start, where the options are fewer.
We discuss the type of accommodation we would like in Indonesia and we decide that we do not want an "American" style resort hotel. These are the places that we feel are targets for unsavory happenings. I look for smaller hotels and ones that the locals may stay in. After all, we are only staying one night and we can put up with quite abit for one night. I find a handful and I email them to start a conversation, just like we did with the dive liveaboards.
I typically ask something like the following:
Do you have a room for the night of …………? What is the cost for the room? Is tax included? Are there any other taxes or fees? Does the cost include breakfast? Do you accept credit cards? Is there an extra fee to use a credit card? Is the bath and toilet ensuite? Are there restaurants nearby?
Murray ends up taking over for me as I go on a road trip to visit my daughter, so he books hotels in both Manado and Sorong and then Singapore. I go along with what he decides as the are no stand out choices.
We are also communicating with two dive resorts outside Manado. Froggies and Two Fish. Again, we send inquiry emails, this time we include questions about diving and meals, and I find I like communicating with the Froggies people much better. They both have resorts in Bunaken and Lembeh, islands on different sides of Manado. After we receive replies, I create a spreadsheet to compare the two resorts. One gives us prices in Euro and one in Indonesian currency, so we need to compare apples to apples. Here is what the spreadsheet looks like: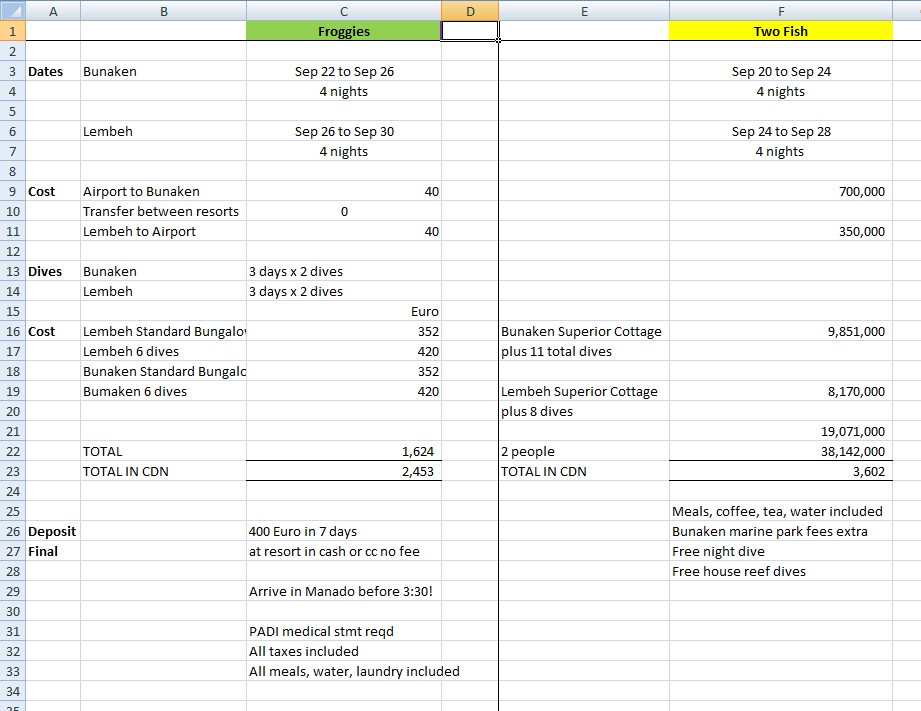 We decide to stay at Froggies, spending a few nights at Bunaken and a few at Lembeh. We finalize the booking via a combination of emails and online payment forms. Exciting!
We meet up with our friends, L&R, to talk about Japan and we formulate a three week tour of the country dividing up the search for accommodation. Again, Murray tackles the big cities and I tackle the smaller ones. We once again use the email method with slightly altered questions as we are looking for two rooms now and the spreadsheet to compare the various choices. We now have a workbook, with eight tabs for Singapore, Tokyo, Kyoto, Kyoto 2, Kobe, Hiroshima, Izumo and Tottori. Here is what the Hiroshima hotel spreadsheet looks like. We ended up booking the Hana Hostel.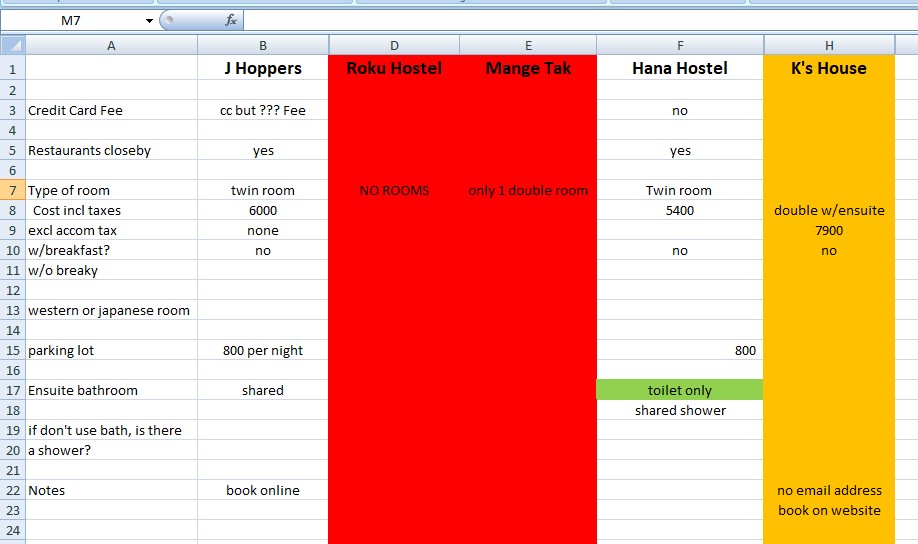 It takes time and effort, but we eventually pin down various accommodations in all the locations we are traveling to. We do not like to be so scheduled but a tour guide friend who lives in Kyoto recommended we book everything as autumn in busy in Japan. Looking at our list of places to lay our heads, we are staying in western hotels, Japanese hotels, hostels, temple stays, an airB&B Japanese house, a ryokan and a capsule hotel. To me, it sounds terribly exciting to experience so many varieties of accommodation.