We dive today with Eco Divers. The second dive is my 400th dive! The sea creatures must have known it was a special dive as some of my favourites swim by to help celebrate.
There is surge here and we rock and roll with the soft corals, back and forth, back and forth. A good couple of dives with a great crew.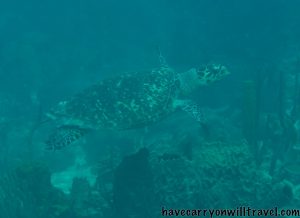 When we get back to our little apartment at the Adulo Apartments, Murray realizes that a weight has travelled with us in one of his BCD weight pockets, and we have left our small fish books at the dive shop. Back to the shop we go.
Instead of walking, we take the "bus". The buses are smallish white vans that hold 10 to 12 passengers. It cost $2 BBD to go anywhere. We flag a #11 bus down, climb in. The driver must have thought he was driving the Indy 500, as he zips through the traffic, stopping suddenly to let passengers off and on, tooting his horn. We arrive at the central bus station intact and only a little squished and shaken up. A wild ride!
We walk home along the beaches and swim at two along the way. We like to bag beaches, which is to swim at as many beaches on an island as we can. Today, the water at some of the beaches is rough, so we do not swim on every one. I remember when we where on San Salvador, with our friend B, we rented a car for one day and drove around the island having a quick swim at each beach we came across. An odd but fun past time.
It is a day filled with diving, bussing and beaching adventures and now we are pooped.