This summer, my friends and I really immersed ourselves into Shibori inspired tie dyeing. We tie dyed shirts and onesies and tea towels and bags and fabric. It was great fun, especially the part where we unwrapped our item and saw how it turned out. There were many fabulous creations.
While researching Ubud, I came across a course for batik. In my mind batik is a natural progression from tie dyeing. I found a course where I didn't have to know how to draw and signed up.
So that is how I found myself at Widya Batik Class this morning. The classes are run by a family, originally from Java who brought the batik knowledge with them. They are all friendly, patient, knowledgeable and helpful.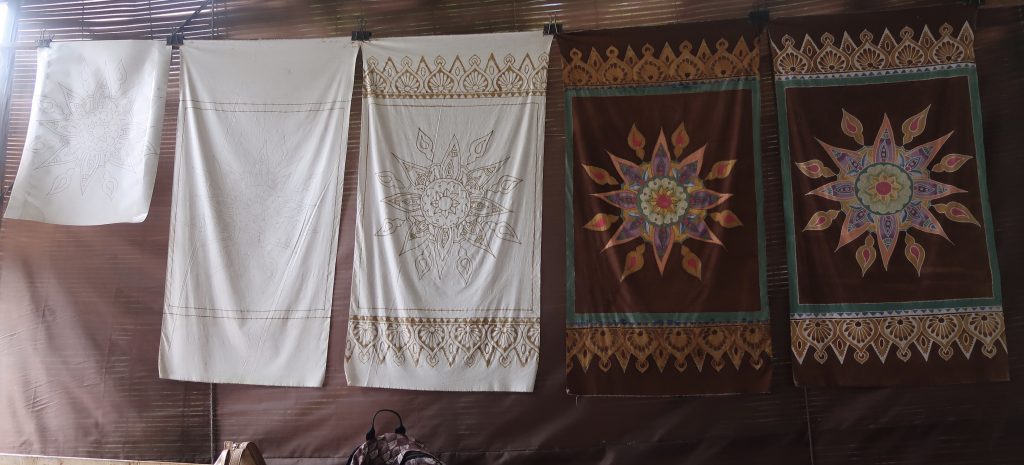 The first steps in the batik process are to pick out a predrawn pattern and trace it onto a piece of cotton.
The next step, and the hardest, is to apply wax to all the pencil lines on the fabric. The wax is made up of mostly bees wax with some coconut oil to make it malleable. It is kept hot over heat. Applying the wax is done with a tool that holds wax in the top and spreads out the tip. I practise and practise until I feel confident to work on my own project. This step took the longest and the most patience.
The fun part is adding colour. Again I practise and try different colour combinations. Ready to start mine! Because I chose flowers, it is suggested that I add shading on the petals in one colour and paint the petals another colour. Flowers first, seed pods next, then leaves, then the background and header and footer. It was difficult to decide on colours as I worked but the staff were very helpful in offering suggestions.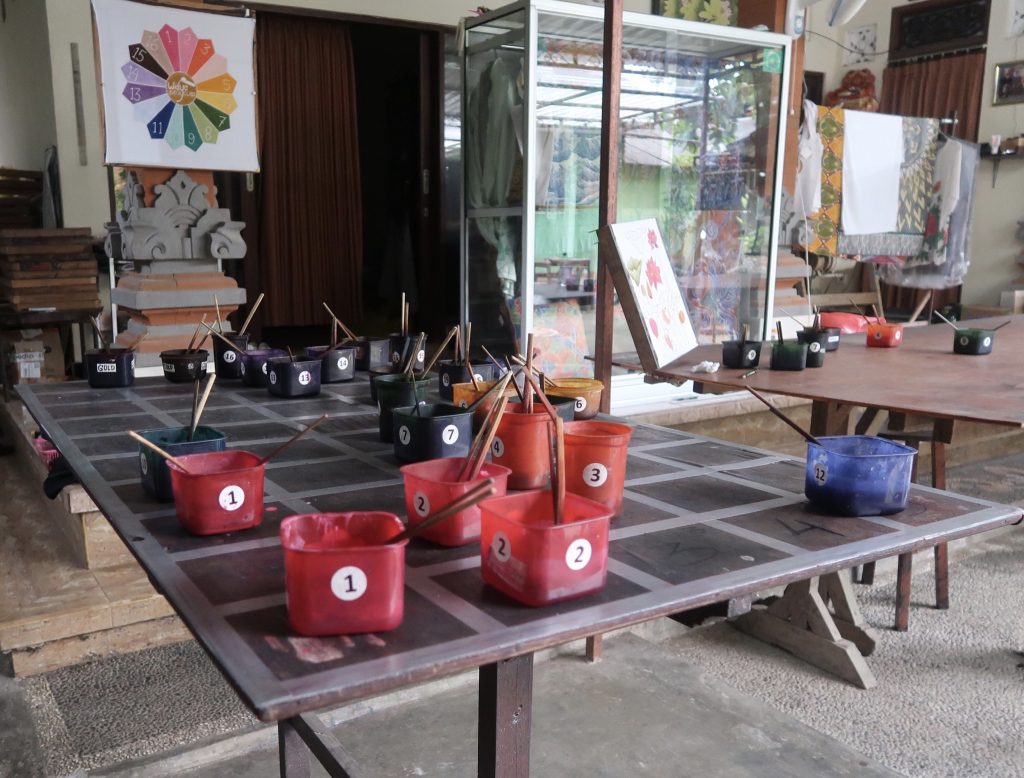 Once the painting is done, the work has to sit in the sun until it is really dry. After it dries, it gets soaked in a fixative solution and then soaked in boiling water to remove the wax. A quick rinse and the piece is ready to be dried and is finished. All the areas with wax are now white and are the outlines of the flowers, leaves, stems and borders.
It is quite exciting to see a batik work come to life through this process. Just like tie dyeing, it is exciting to see how the finished work turns out. I am very pleased with my creation and thank the staff at Widya Batik Class. If you are going to Ubud, I would highly recommend taking a batik class from this wonderful family.