During the night, I wake up and hear the rain pelting down on our roof. I hear the wind in the palm trees. When we arise, the storm is ferocious.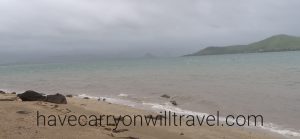 Our guess as to whether we dive this morning is confirmed when Simon, the manager, stops by our breakfast table to tell us we are not diving. There has been a marine warning issued and no boats are allowed out, the airport is closed and Cyclone Keni has been ungraded to a category 3. THREE! Simon shows us the cyclone's projected path and the resort is right on the edge. Nadi and the west side of the island are going to get hit hard.
The storm seems to pulsate. The wind blows continuously but the rain comes down in truck loads and then abates and then comes down again. We end up getting water coming in under our front door that has to be stopped up with beach towels. A lake forms in the entrance to the dining room and bar due to a plugged drain. Six or eight people, guests and staff work, to clear the water and dry the dark wood floor.
The resort is well built. There are extra reinforced beams holding the roof up and down on the dining room building. Before the storm reaches its peak, shutters are installed on the louvred windows. Our little bungalow will withstand nature's forces this time. Apparently, two years ago Cyclone Winston, a category 5, tore the roofs off all the bungalows.
We read, do crossword puzzles, watch the caps on the waves, perhaps 10 feet high, get bigger, watch the trees bend almost to breaking in the wind and try to convince ourselves to go for a swim in the pool to get some exercise (didn't happen). 
Murray opens the door of the bungalow and the wind is so strong that he cannot keep the door from flying open with Murray holding on and sliding across the soaked tile veranda. Before he can react he slips, falls on his back and slides down into the greenery beside the veranda. All I can see is a leg sticking up in the air. He's okay and after figuring out how to extract himself he crawls up out of the hole and across the deck. After more sliding and pushing, he manages to get the door closed. Won't try that again! We inspect him for damage – a bruised elbow, sore hip and a bump on the head. He'll live.
We now can say we survived a category 3 cyclone. Keni, you beast.
By 7:00 pm the storm has blown and rained itself out. There is hope for scuba diving tomorrow.