Sitting at our picnic table in site # 64 in Murray Doell Campground, watching the loons swim by on the lake, I realize that it is extremely quiet. No people noise, no traffic noise, no human noises. Just nature.
The loons call is haunting and varied depending on the time of day. A raven's call is something I do not think I have heard and it is bizarre. Made me really listen to the notes. As a raven flies over our campsite, its wings go swoosh, swoosh, swoosh. I can imagine the air flowing with each wing pump.
No WIFI! No power! I brought my iPad, but it did not come out of its case. Luckily, I had a paper book that I am reading. Truth is I did look at my phone on the first morning to check the weather forecast. But only that! It feels good to get unplugged for a few days.
We went for a drive through the park to explore the other lakes and campgrounds. The gravel road is an avenue with autumnal trees bordering each edge. The trembling aspens stand out with their bright golden yellow leaves atwitter in the wind. Fall is a spectacular time of year for a drive in the country to marvel at the colours.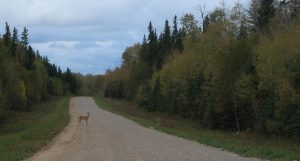 Murray and I were surprised at the quantity of wildlife that we encountered. Numerous deer, two of which darted in front of our moving vehicle on the main gravel road through the park. The second one, stopped in the opposite ditch and looked back to say, "HAH, made it! Take THAT!" Two bear cubs also crossed the road in front of us and then hid in the bushes to check us out checking them out. A shy coyote also on the move. A bald eagle gliding in circles, searching for lunch.
The chilly weather finally told us to go home. Tenting is a great way to experience nature, but cold climes can turn fun into survival. The weather wasn't harsh, it was just slightly too cold and we had to keep moving to stay warm and this camping trip was supposed to be about regenerating, ie. sitting.
Next stop, Bonaire.