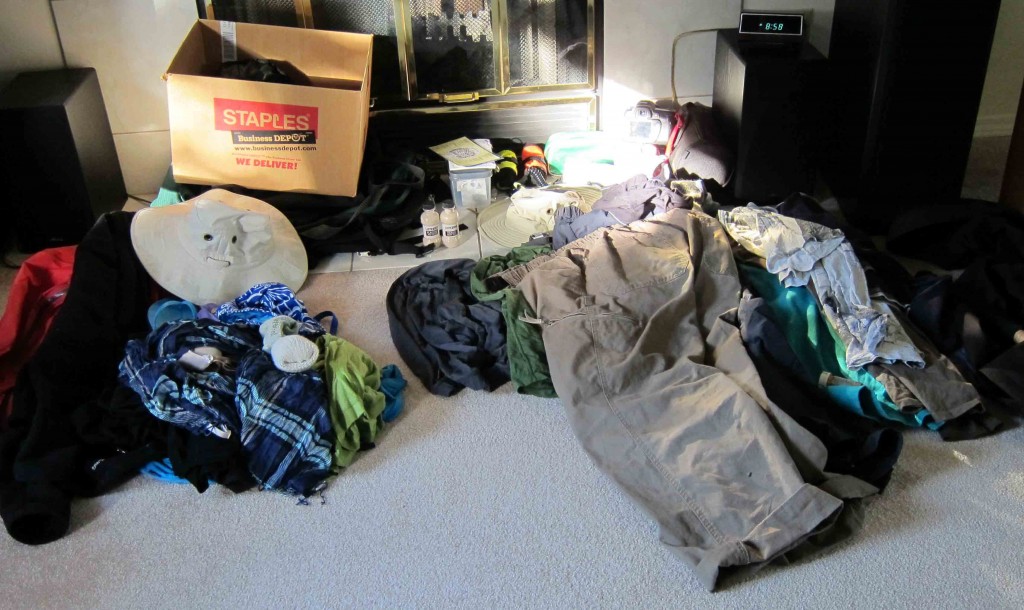 Murray was getting antsy about starting to pack for Bhutan and India. The trip is becoming reality.  The camping gear is put away, the laundry is done, my daughter has left to go back to school in BC. We printed off our packing list and got to it.
We tackled Murray's clothes first as he didn't really know what to take, whereas I had been thinking about it and had a pile going already (I cheated as many of the Bhutan clothes had just been camping).
For Mur, we pulled two pair of 100% nylon convertible pants and one pair of normal 100% cotton pants.  Murray will only take two pair of pants so he has to decide which ones.  I have a pair of wool stretchy pants and a pair of linen pants.  We talked about maybe I should take a pair of convertible pants as the Andamans will be hot. I find 100% nylon pants not all that warm so I am not quite convinced about them. I do not have a pair, so I will go shopping to see what I can find.
We are both taking wool long underwear as PJs. We have read the hotels in north India and Bhutan may not be as warm as here in Canada. If necessary, we will wear these during the day too. We are both taking at least one other wool top to wear during the day as Bhutan is at altitude and it could be cool there in the mornings and evenings.
Cotton T shirts round out Murray's shirts. I have a combo of one cotton T shirt and a couple of wool T shirts. I am taking a fuzzy, but Mur probably is not. I am taking a toque and a light pair of gloves.  Mur is probably not. We also pulled jackets, umbrellas and wide brimmed hats. There are a few items too many in the living room pile, but we will cull as time goes on.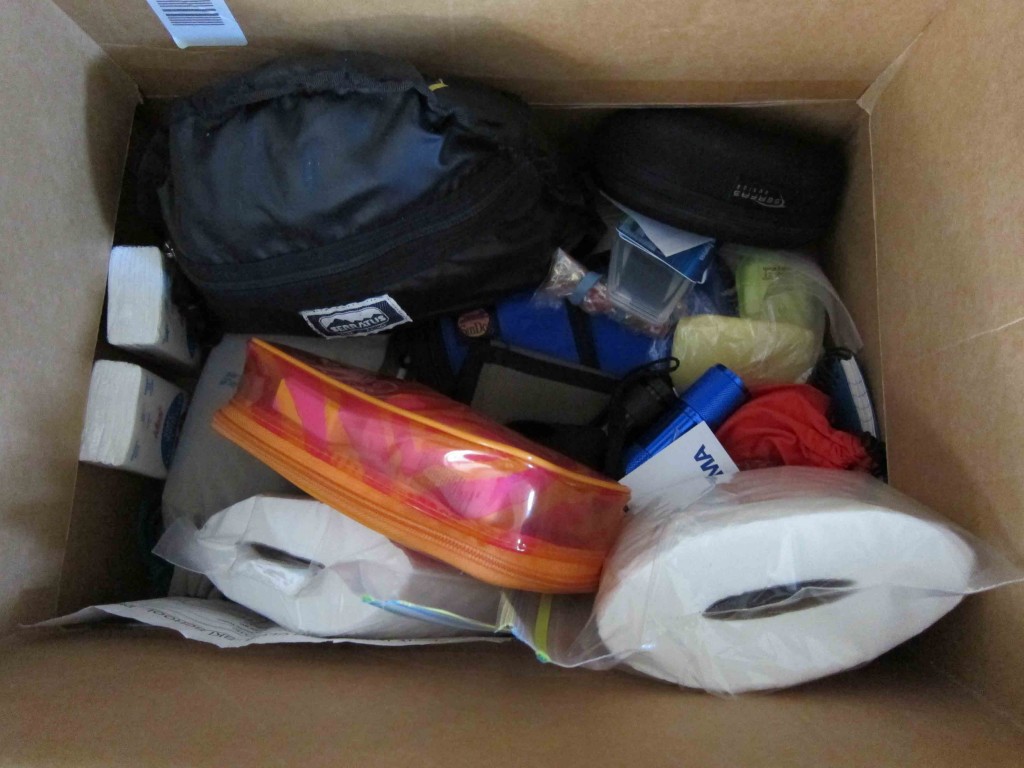 We went through the "Other Stuff" list.  Many of these items had been to Bonaire and were sitting in the box already.  We dumped the box, sorted, put back in the box and crossed them off the list. Items we didn't take to Bonaire that we are taking on this trip are two flashlights, adapter plugs, daypack, toilet paper and umbrellas.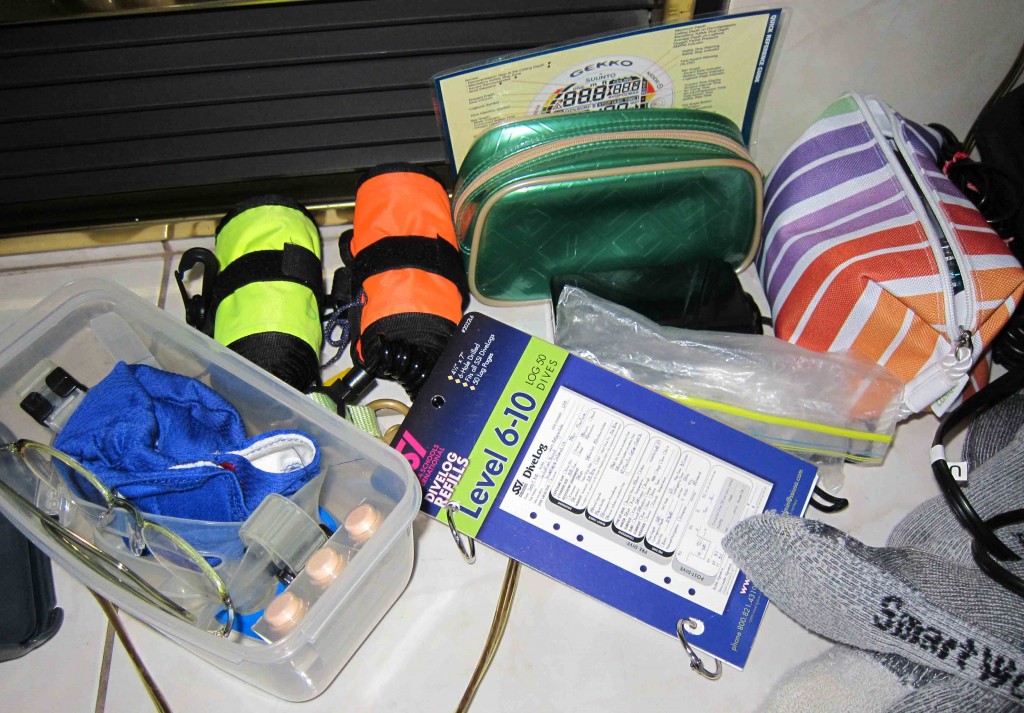 We are going scuba diving in the Andaman Islands and decided that we would take only minimal stuff and rent most of the gear needed.  Dive computers (green bag above), my prescription dive mask, Mur's do-rag, one waterproof wallet, camera housing in the striped bag (but not the strobe flash), dive log pages. We had a discussion about whether to take our safety sausages and we decided that we would.  We are not sure of the quality of dive operators in the Andaman Islands and ultimately our safety comes first.  So, the sausages come with us.
We didn't tackle the first aid list, important documents list or the toiletries list.  Soon.
Our desks are a mess right now.  We are trying to tie up loose ends.  We are very close to booking hotels in the Andaman Islands – on Havelock and in Port Blair. We are trying to decide whether to prebook diving.  The operators want us to prebook but we are nervous about tying ourselves to an operation – what if it is not up to our safety standards? We have sent our emails to various hotels and have gotten most replies.  Tomorrow we will sort through them and make decisions.
Enough for today.  We are moving ahead rather quickly towards our departure.  It still seems unreal that we are actually going.  In less than three weeks, it will become very real.