Murray was packed up and gone in about 20 minutes. He gathered up the last of his stuff and packed it into his bags.  There were a few loose items that didn't fit – guess pillows don't squish too well.  He is a logical and neat packer – fitting stuff nicely into his bags.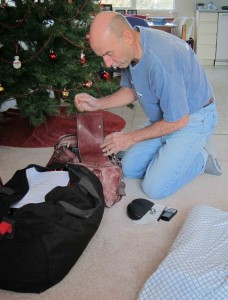 As I followed him around, he moved everything to the back door staging area. He came out of the bedroom (where we "hide" our sweets) with a few macaroons for the road. You can make them out in the picture below sitting on top of the black bag, beside the car keys.  Unfortunately, they did not make it into the vehicle!
After making more than a few trips between the house and vehicle loading stuff, and mumbling "I could move to California with all this stuff!" and "All this for two days!" he was loaded and ready to go.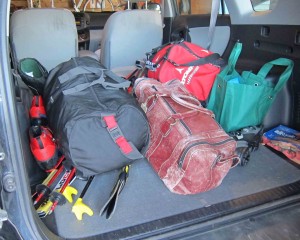 Happy Skiing!